22 May 2016
Location: Nice, Monte Carlo, Cannes & Marseilles:
Introduction:
After spending several days in the Cotes de Provence vineyards and hill towns, it was time to head down to the coast and get a taste of the Côtes D'Azur and the French Riviera. We made Nice our home base and used it to explore Monte Carlo and Cannes. We then finished up our week's vacation in Marseilles.
Sights Visited:
We lucked out and caught a day filled with brilliant sunshine and blue skies when we arrived in Nice. It was clearly the best weather day of our trip and we took advantage of it to walk all around the city where there was lots to take in.
The train station was an easy walk from our hotel. It took longer to wait in line to purchase tickets from the confusing and temperamental SNCF kiosks. Trains were fairly frequent and the ride to Monte Carlo was just 25 minutes. Monaco is its own sovereign country. It's treated as part of France and we did not have to go through any passport control or customs. We arrived a couple of weeks before the Monte Carlo Gran Prix and preparations were well under way making it more difficult to walk around due to road closures, guard rails and fences. While we found the architecture, in general, to be impressive, it felt overbuilt and congested. After a couple of hours walking around in what felt like a maze due to the Grand Prix and new construction, we'd seen enough and decided to move on.
The same train line that serves Monte Carlo and Nice continues on along the coast. Thus, we were able to board a train in Monte Carlo, pass back through Nice and head for Cannes. This was about an hour ride. The Cannes film festival was in full swing and the town was buzzing with tourists, press and film industry players. We liked Cannes. It was easy to get around on foot to see the sights. There were plenty of restaurants and cafes that were able to capably handle the crowds. We also found plenty of stores to browse and shop in and we took advantage of them to pick up some gifts and souvenirs.
We got back in our car and made the 100-mile drive back to Marseilles where we spent our final day of the trip. We couldn't resist the temptation to revisit the grounds of Notre-Dame de la Garde, where the panoramic views of the city are spectacular. We visited the ever-popular vieux port and then the old town before settling in for the final dinner of our trip at Les Fepêtres Brasserie.
Accommodations:
Hyatt Regency Nice Palais de la Mediterrane: We used Hyatt points to book 2 nights at the last minute. This was a special treat with a well-appointed, modern room. Excellent Wi-Fi; an impressive breakfast buffet and decent fitness center. Parking was extra. It looks out on the Mediterranean and is centrally located such that we could walk to the city highlights.
We spent our final night of the trip in the Novotel Suites Marseilles Centre. It's on the western side of the city, which was most convenient for getting to the airport for a mid-morning flight home. The fitness center was minimalistic and the Wi-Fi was very good and parking was extra. The room was on the warm side and opening the windows did not bring much relief.
Food & Drink:
Now that we were back in a large city, we were pleased to have plenty of dining choices. The top of the list was to find a good French seafood restaurant. The hotel concierge recommended Le Bistrot des Viviers which is adjacent to the pricier Rolancy's Restaurant. Both are run by Chef Jacques Rolancy. We mention him because he came out to check on us and the other diners to make sure that we were all satisfied – which we were.
We made a habit of finding a pastry shop or café to have an afternoon treat and espresso drink.
Our final night's dinner at Les Fepêtres Brasserie in the Intercontinental hotel was pricey but the ambience satisfied our need for a more romantic setting and the food was quite good.
Transportation System:
While in Nice, we parked our car and took advantage of the centrally located train station to travel to both Monte Carlo to the east and Cannes to the west. The trains were right on schedule and provided scenic rides along the Mediterranean coast. The passenger cars were double-deckers that provided a smooth, comfortable ride.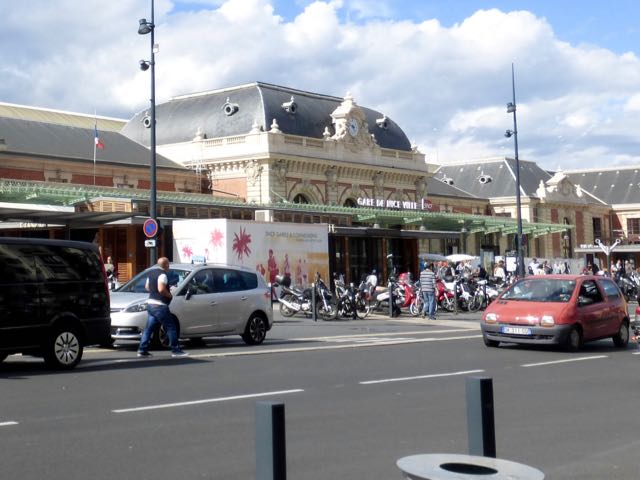 Once in Marseilles, we again parked our car and relied on mass transportation and walking to get around town. We took advantage of the very frequent trams and buses.
Shout Out:
The staff at the concierge desk of the Hyatt Regency Nice Palais de la Mediterranee were the best we've ever experienced. We interacted with 3 different staff members and they each provided invaluable services.
For Your Amusement:
We rode the SNCF train on three separate segments and no one ever checked our tickets. This was strange since some people paid the conductor for their ticket on the train.
We tried to learn the local lingo to properly order our espresso drinks of choice. The funny thing was that when we tried to order a Café Americano, they would say…Oh, Café Lungo, Qui. So, we would order a Café Lungo the next time and they would, of course, say…Oh, Café Americano, Qui. It was like a game that we could never win.
Highlights
Views of Nice from Castle Hill and Marseilles from Notre-Dame and Cannes.
Next Up:
It's back to reality. We fly from Marseilles to Frankfurt where we board a plane for Houston and then make a connection to get back home to Denver. We pick up 8 hours on the way back. So, we leave on Sunday morning and get back home on Sunday night.
Comments