14 May 2016
Here We Go Again – France
Location: Aix-en-Provence, The Var and Saint-Paul de Vence, France: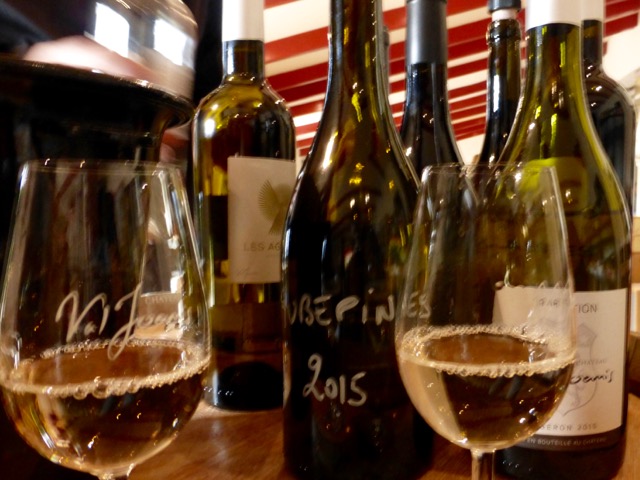 Introduction:
During our year abroad, France was one of our favorite countries and we couldn't wait for a return visit to soak up the food, wine and people. We got a taste of Provence when we first discovered Marseilles and decided that this was a region worth exploring further. So, we flew into Marseilles and headed for Aix En Provence to get started.
Sights Visited:
Aix En Provence is a city that thrives on tourism with numerous streets lined with restaurants and cafes. A little too touristy for us but tourism drives a lot of the local economy. The city was fairly flat and easy to walk around with lots of narrow, winding streets to wander up and down and explore.
Not far to the north of Aix En Provence is the expansive Parc Naturel regional du Luberon filled with winding roads, switchbacks and hairpin turns. We drove up into Bonniuex, which offered panoramic views of the lush valley below. One could feel the ancient history here. We found the people to be warm and friendly. Our initiation to the 3-cheek kiss greeting here was a new one for us. (If you're new to our site – you can click on the photos to zoom in on the details)

We visited a number of towns of varying sizes – some more impressive than others. Lorgues was ok but fell short when compared to other hill towns with better views. Alguines is a quaint hill town at the start of Gorges du Verdon, which is also known as the Grand Canyon of France. It was very impressive but the sheer drops and hairpin turns were a bit unsettling. Draguignan is a town of some size that seemed a bit tired. We happened to be in town on V-Day and discovered that there was an American Memorial Cemetery from World War II there. We couldn't pass up the opportunity to make a visit and honor our fallen heroes. TourTour is another hill town with impressive panoramic views. A visit to Domaine Ott's Clos Mireille vineyards took us down to the pretty coastal town of a Londe-les-Maures. From there, we headed east to the Cote D'Azur and stopped at the town of Saint-Paul de Vence. This walled hilltop town has fantastic views that were well worth the visit.
Accommodations:
Le Patio B&B is just outside of Aix-in-Provence. Our accommodations were modern and spacious. The private grounds were well manicured and our room opened out to a built in pool but the springtime temperatures were too cool for us to test the waters. The Wi-Fi was much slower than what we're used to and we just had to be very, very patient. The breakfast was simple with coffee, tea, fruit juice and an assortment of bread, toast and croissants. Our host Nathalie was very gracious but given that she did not speak English and we did not speak French, our communication was limited. Fortunately, her son Thomas and husband Peter spoke some English and both were very eager to please.
In Villecroze, we spent 2 nights at Villacrosia. It was an impressive property where the common areas felt like we were in a museum filled with antiques and artwork. Our hosts Gilles and Gilles couldn't do enough to please us. They spoke minimal English but they were quick to use a mobile phone translation app to communicate with us. The grounds included a small but attractive pool and a dated fitness center that we made work. Breakfast included fresh fruits, breads, croissants, yogurt, coffee, tea and juice. The Wi-Fi was very good.
Hotel La Hameau in Saint-Paul de Vence: We booked 2 nights and left after one, as we were quite dissatisfied with our accommodations. The room was tiny and we had to duck our heads to enter it. The wi-fi was unusable in our room and we were short on privacy, as we needed to open our first floor windows to cool the room and hotel guests would wander by and peek in.
Food & Drink:
Provence is known for its food and wine. The wines of Val Joanis were recently added to the portfolio of wines that Elizabeth represents back home. Thus, she was able to arrange a visit and one of her customers (Dano from Kate's wine bar in Littleton) tipped us off that the winery was featured on an Anthony Bourdain episode. Being huge fans of his travel shows, we found an archived version of his show on Provence to whet our appetite. The attractive winery and gardens are a popular setting for weddings. We tasted whites, rosés and reds and can honestly say that we enjoyed them all. Rosé pairs well with a lot of foods and is the most popular wine of the region.
Our second winery visit was to Chateau Berne with meticulous grounds, a high-end boutique hotel and Michelin star restaurant to boot. We toured the facilities and tasted the wines and learned about Marc, a spirit produced from the grape skins similar to Italian Grappas but only better.
Our third and final winery visit was to Domaines Ott where the Rosé wines were both expensive and exceptional. The Clos Mireille property that we visited is located right on the Mediterranean Sea with Palm Trees, a German WWII ammunition bunker and more. In addition to their Rosé, we enjoyed their Red and Marc over a lavish lunch that our fantastic guide, Adelaide, prepared for us.
We couldn't wait to indulge ourselves with French food and we enjoyed several fine dishes. That said, in our haste to dive in and our lack of French language skills led us to select some dishes that were well prepared but not what we were expecting. The lesson learned is that we need to put more effort into translating the descriptions before making our selections.
Transportation System:
We flew into Marseilles on British Airways changing planes at London's Heathrow Airport. We endured a 3-hour delay departing but had enough cushion in our transfer time that we still made our connection. We rented a car from Avis. Rich had his heart set on a Peugeot as we really enjoyed driving them before. However, there were none available and they set us up with a Renault Captur, which we'd never heard of before but it turned out to be a really sweet car. The 5-speed manual transmission and diesel engine provided good, fuel-efficient performance. The built-in navigation system was an added bonus. The local winding roads were narrow with numerous roundabouts and several one-lane bridges. When we needed to come to a quick stop at an intersection, we got bumped from behind. Fortunately, there appeared to be no damage to either vehicle and we were quickly on our way again.
Shout Outs:
We express our gratitude to Gaël Blanchon for taking time out of his weekend to provide us with a tour of the vineyards and facilities followed by a tasting of an impressive set of wines at Val Joanis. And then, to literally top it off, in the lovely hill town of Bonniuex with a fine lunch at Le Fournil. Merci Beaucoup Gaël.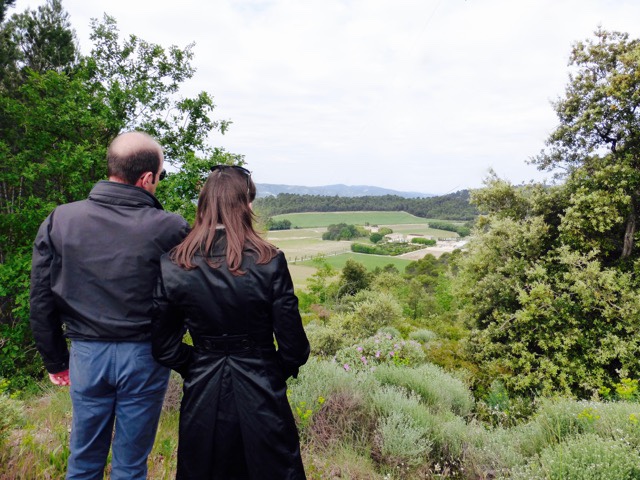 We must also thank Adelaide Beaudonck for making time to further educate us on the production of Rosé at Domaines Ott and spending 5 hours with us during the tour, tasting and delicious Provencal lunch.
For Your Amusement:
We were surprised to find that they didn't stamp our passports upon entry into France, which is part of the Schengen zone from which we were previously deported for overstaying our welcome. Of course, we would never have been deported if they didn't stamp our passports upon entering Europe through Spain on our previous visit. Go figure.
We were pulled over by a policeman on a motorcycle who came from the opposite direction. We assumed that we'd been caught in a speed trap. It turned out that he needed to move us to the shoulder of the road so that a convoy of armored military vehicles could pass through.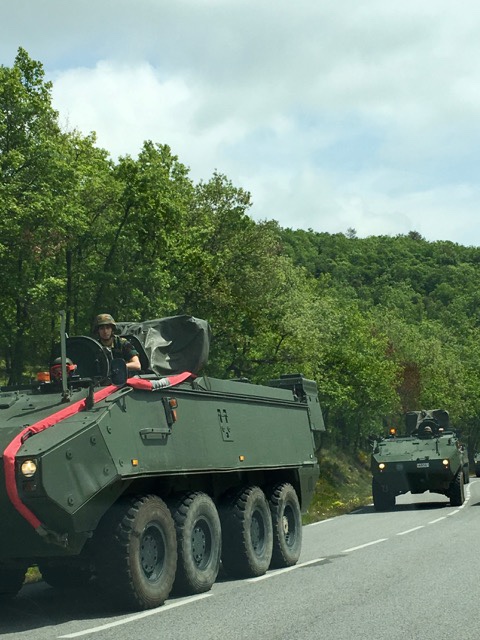 Here's a photo of Rich literally "smelling the roses"…an activity he enjoys to stop and enjoy the beauty in life.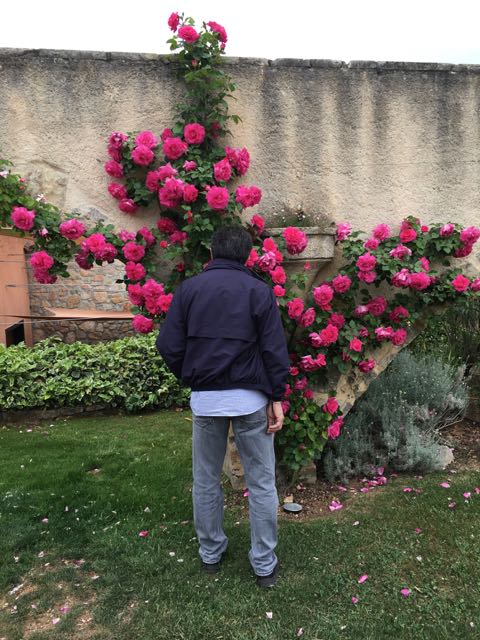 Highlights:
Winery Visits in Provence, Gorges du Verdon, and Saint-Paul de Vence.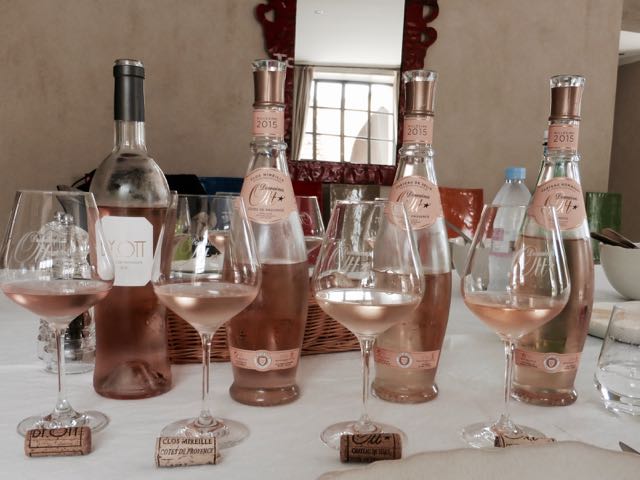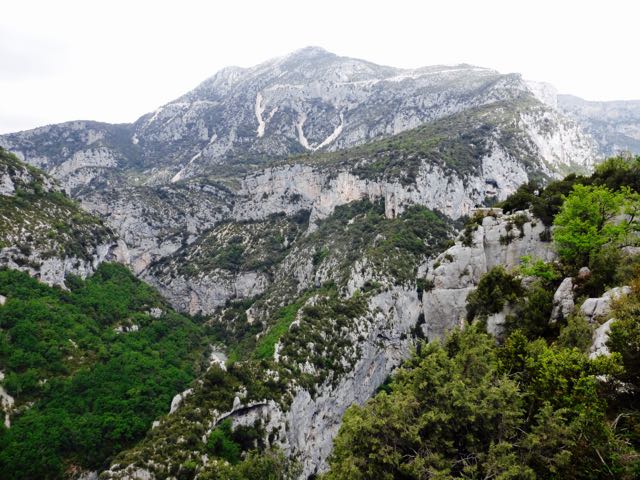 Next Up:
We're heading for Nice and the French Riviera.
Comments