22 Jul 2014
Location: St. Petersburg, Russia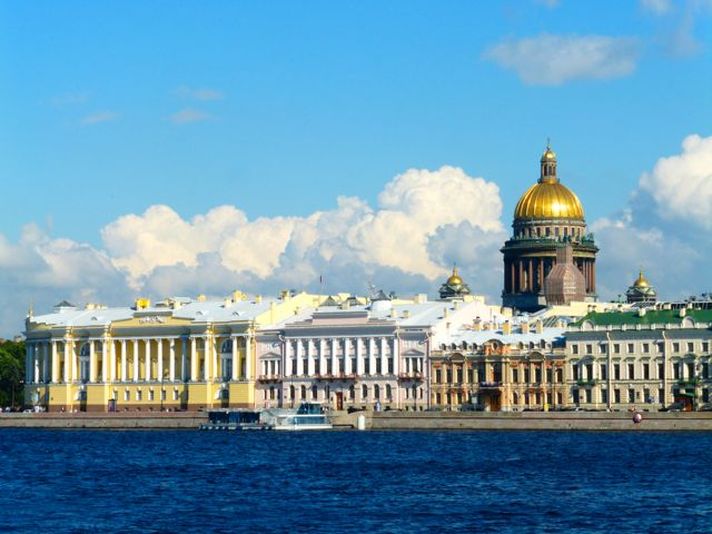 Introduction:
We've read a number of novels involving St. Petersburg (e.g., Anna Karenina) that left us longing to see this famous city. However, obtaining a Russian visa is a challenging and expensive process. In addition, relations between the US and Russia have been somewhat strained of late. Thus, we planned on skipping the country until we discovered a convenient back door. We could visit St. Petersburg if we came in by boat and stayed less than 72 hours. So, we booked flights to Helsinki, Finland where we boarded a round-trip excursion by ship to St. Petersburg. Many foreign tourists come into the city this way but Russian tourists seemed to far outnumber them. Thus, we found English less common than in other large European cities. The sights that we saw often left us gawking in amazement.
Sights Visited:
We started out with a half-day guided tour run by the ferry company, St Peters Line, to get a feel for the city and then set off on our own to see the sights that most interested us. We lost count of the number of times that we commented on how big in scale most of the tourist sights were. The buildings are typically only 4 or 5 stories high (there are no skyscrapers) and they are long and wide covering a lot of ground. The extensive use of gold ornamentation glowed brightly in the sunshine and believe it or not, reminded us of Bangkok. Yet, St. Petersburg has a grand style all its own.
Peterhof Palace is located about 30 km from St. Petersburg. We headed out on a Saturday and we found lots of people strolling the seemingly endless grounds, which contain impressive fountains and gardens. Glittering gold adorned statues and towers conveying a sense of great wealth. Clearly, this is a real treasure for the citizens of Russia to enjoy and admire.
Accommodations:
We spent 2 nights in a cabin on the Princess Maria. The first night transported us from Helsinki to St. Petersburg and the second night took us back. The cabin was small but comfortable. The wifi was expensive and poor. The a/c worked well. We took sleeping pills to ensure that we'd get a good night's sleep each way and we did.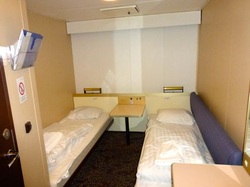 In St. Petersburg, we spent 2 nights at the Solo Sokos Hotel Vasilievsky. We selected it as part of our cruise package and were very pleased with it. We had a nice sized room with good a/c and wifi. They had a decent fitness center and provided a nice breakfast buffet. The location was good as we could walk to numerous sights and the metro was just a few blocks away.
We had the opportunity to try some traditional Russian food in the form of Borsch and Pasties. We also enjoyed some Asian food and seafood salads.
Transportation System:
We flew Air Berlin from Zurich to Berlin and then on to Helsinki where we took a bus and a tram and then boarded an overnight St. Peter Line ship to St. Petersburg. Once in the city, we walked a lot; took advantage of the deepest metro in the world and rode a hydrofoil to Peterhof Palace.
Shout-Out:
We extend our appreciation to Yaroslav for recommending an authentic Russian restaurant for us to meet up at. He ordered the food and Kvs drinks that we toasted him with. Yaroslav is helping us makeover our website. Thanks for sharing your insights on Russian life and helping us enjoy the local cuisine!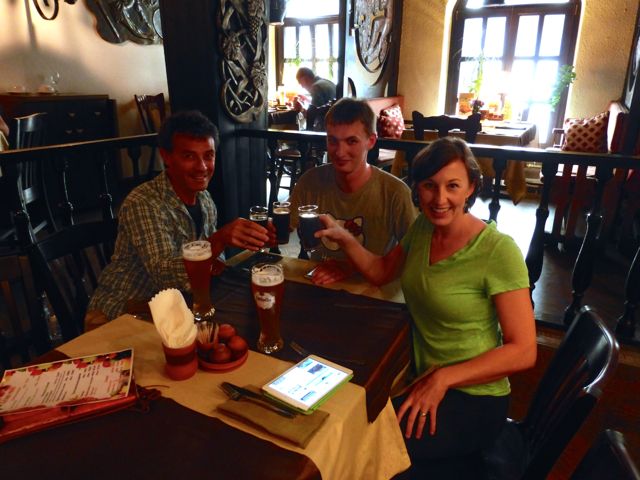 For Your Amusement:
St. Petersburg is known for their "White Nights". It didn't really get dark until about midnight and it started getting light out at about 4am making it somewhat tough to sleep. The photo below was taken at 11:15 pm.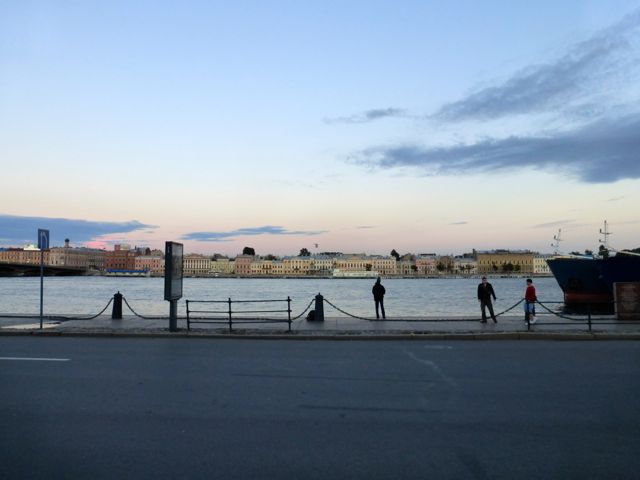 Imagine our surprise when we came across this sign on the 4th of July in Russia.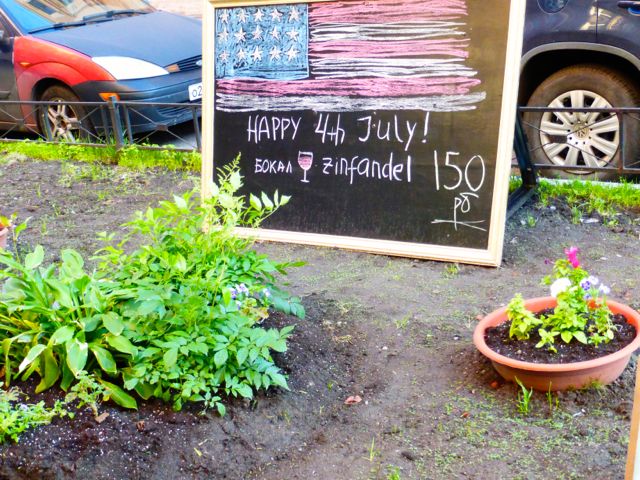 Highlights: 
Peterhof Palace and St. Petersburg's colorful churches.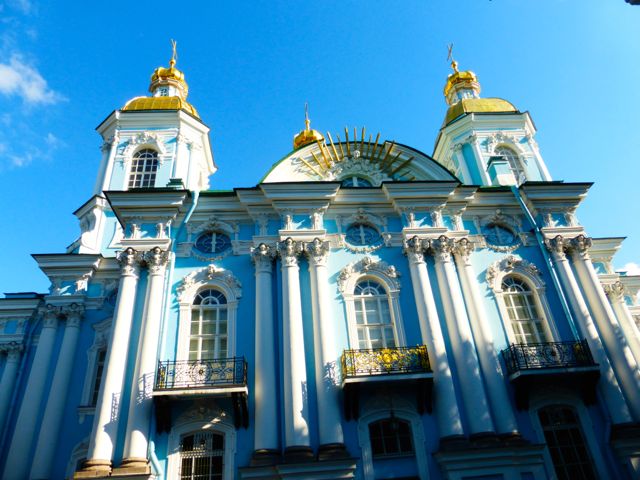 Next Up: We return to Helsinki where we face deportation.