13 Jul 2014
Location: Switzerland
Introduction:
We planned to skip Switzerland on this trip. However, her natural beauty wowed us so much on our first visit that when we discovered a cheap flight to Geneva, we rationalized that we'd never been there before. So, we started out in the French-speaking south and finished up in the German-speaking north. Along the way, we discovered that not only is southern Switzerland just as beautiful as the north but it also has that evil-good French food that we love so much. Switzerland continues to be one of the most beautiful countries that we've ever visited. We just wish that it wasn't so expensive.
Sights Visited:
The next day we set out on what we expected to be a somewhat easier 9.5 km hike from Les Fers to Pierre du Moelle. Unfortunately, when we came to a fork in the road, we misinterpreted the signage and took the road less traveled, which turned out to be the wrong one.  Rather than retrace our steps, we opted to make our own path up the mountain. An hour later, we were finally back on track. The trail became much more demanding than what we'd expected. However, we were rewarded for our efforts with spectacular scenery in all directions.It's not uncommon to find cows grazing in the fields high up in the Alps providing a serenade of sound from the clanging bells that hang around their necks. They also leave lots of cow pies. It was inevitable that sooner or later we'd step in one. Sure enough, we each did when we were looking at the beautiful scenery instead of the footpath. Yuck!
Accommodations:
We've often reminisced about the great meal we had at the Balances Restaurant in Luzern. We had to settle for a table in the bar when the restaurant was fully booked on our first visit 5 years ago. Ever since then, we've wanted to return and eat in the restaurant. We finally got our wish and we were not disappointed. We enjoyed another sumptuous meal. This is one of our favorite restaurants in the world.
When faced with the dilemma of what to do on a rainy day, we thought it would be fun to do a crawl of wine bars in Zurich. We liked the Swiss wine that we tasted but only 1% of it gets exported. So, we focused on wines of the world that we've enjoyed before. Much to our surprise, we found that one of the wineries (Masi) from the Valpolicella region of Italy that we loved has opened their first wine bar in Zurich. They even have their own Riedel stemware for their Amarone.
Transportation System:
We boarded another EasyJet flight taking us from London to Geneva. We originally planned to move around Switzerland by train but the fares were so expensive that renting a car offered a better value. We picked up a Renault Clio from Avis. This was a nicer car than what we had reserved as it came with an automatic transmission. We drove all over Switzerland where the mountain tunnels seem to be endless and yet we never encountered a toll. Fuel was also more affordable than other European countries. Nice.
Shout Out:
For Your Amusement:
We were surprised to see that you can buy colored hard-boiled eggs off the shelf in the supermarket.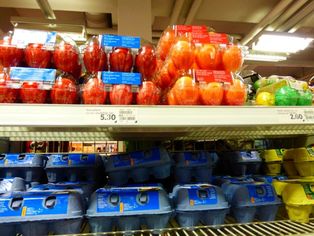 Back home, we would say: "Please don't litter". In Switzerland the cows say: "I prefer grass to waste thank you".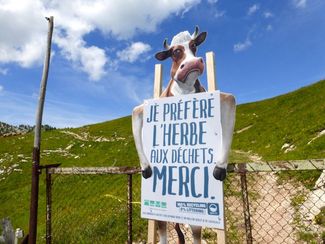 Where the hell are we?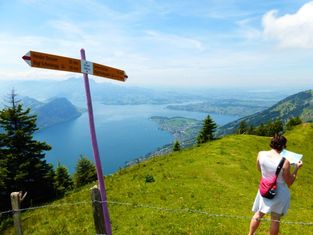 Despite its name, this beer was pretty good.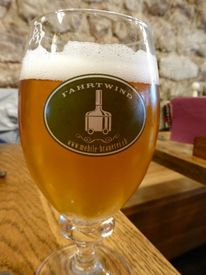 Highlights: Hiking in Leysin and Rigi.
Next Up: We're off to see St. Petersburg, Russia.