10 Jun 2014
Balls, Blooms and Bubbles
Location: Paris, France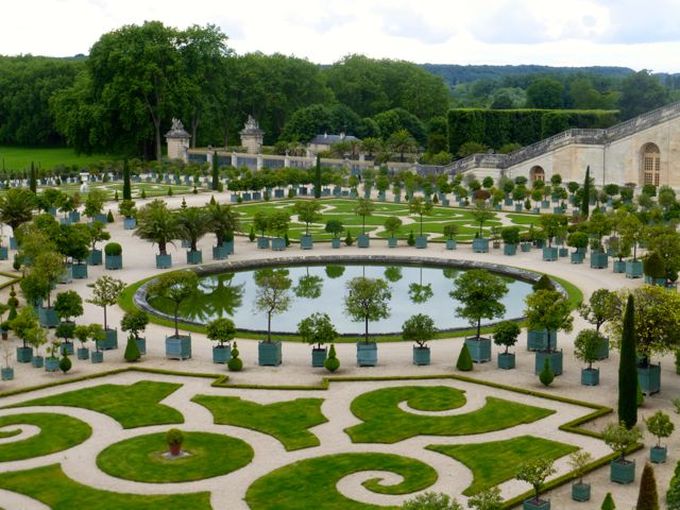 Introduction:
We came to Paris but not for the famous tourist sights as we'd previously had the opportunity to appreciate them. This time, we planned to live on the edge with 3 menu items in mind: Flying Tennis Balls, Blooming Gardens and Bubbly Wine. So, we booked a Hotel on the city's edge and set off in pursuit of our objectives.
Sights Visited:
Last Spring, we were watching the French Open tennis tournament and said to each other: wouldn't it be cool if we could somehow work it out to see it in person next year. Fortunately, we were able to make it happen. We wanted to go to an early round so that we could see Roland Garros in full swing. We waited until the last minute to buy tickets for the second round on the main court "Philippe-Chatrier". We thought that we'd be in the nosebleed seats but there didn't appear to be a bad seat in the house. We loved our upper-level seats and found the main court to be much more intimate than we had anticipated. We usually have a short attention span when it comes to big scale sporting events but not this time. We spent the entire day there. We saw some of tennis's top stars. However, the most entertaining match was seeing French hopeful Jo-Wilfried Tsonga's match. He probably represented France's best chance at a French Open title and the crowd was boisterously behind him. He delivered the goods in straight sets and advanced to the 3rd round.
Next, we ventured off to the massive Palace of Versailles where we especially wanted to explore the gardens. The grounds and formal gardens seem to be never-ending. Although, we visited on a Thursday, the crowds were out in force as it was yet another National Holiday (Ascension Day) in France. This was the 3rd public Holiday that we encountered in France during May. Actually, we didn't mind the crowds as it was great to see so many people enjoying all that Versailles has to offer. We walked for several miles to gain a real feel for the scale of the property. However, we found the best views and impressions came from the grand patio in the rear of the palace.
We had yet another wine region of France that we'd been longing to visit. So, we set off for Reims in the region of Champagne where me made a visit to the house of Veuve Clicquot Ponsardin. There, we toured their impressive chalk caves and learned about Madam Clicquot's innovative contributions to Champagne production in the early 1800's. We then had an opportunity to taste and enjoy the 2004 vintage of La Grande Dame. One of the things that we've learned about wine in France is that Champagne is best enjoyed from a more traditional wine glass rather than the popular flute glass that shows off the bubbles. This lesson was reinforced at Veuve Clicquot.
Accommodations:
We spent 5 nights at the Courtyard by Marriott Paris La Defense West-Colombes as we took advantage of another Marriott Rewards points offer getting 5 nights for the points required for just 4. It was conveniently located outside of the city center, close to a tram stop and a supermarket. They had a decent gym and the wifi was very good.
Food And Drink:
We continued to enjoy the fine foods that France has to offer. So, we ate more cheese, baguettes, pate, etc. The highlight, however, was a dish of pork in caramel sauce that we savored in a restaurant in Reims named Au Plat Du Jour.
Transportation System:
We did a little of everything to get around Paris. We used taxis, trams, buses and metros. We even rented a car for a day from Avis to drive the 150 km to Reims and the region of Champagne. This time, we had a very basic 2-door Renault Twingo with a manual transmission.
Shout Outs:
We once again express our thanks to Toni and Rich McCann for coming through with care package #3.  Thanks Mom & Dad! We must also express our appreciation to Ben Thamrong with Moet-Hennessey for hooking us up with the fine tour and tasting at Veuve Clicquot. Thanks so much Ben!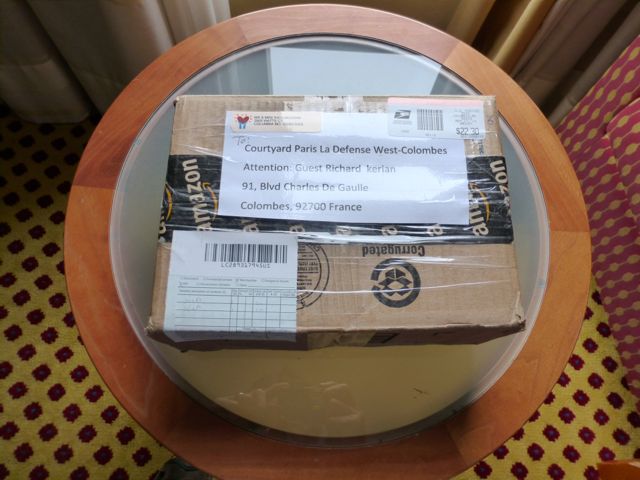 For Your Amusement:
We've pumped fuel at a lot of gas stations along our journey but doing it in an underground parking garage was a first.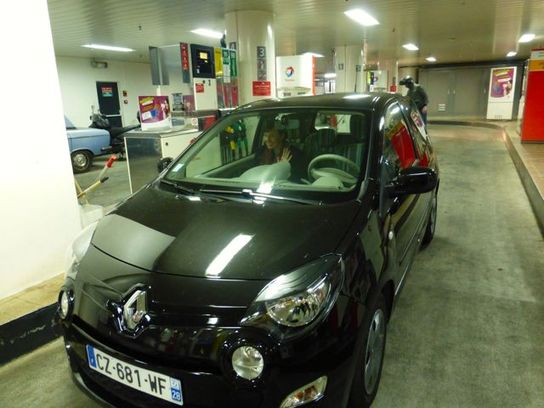 We got a chuckle out of this sign showing the way to the 3 other Grand Slam Tournament sites.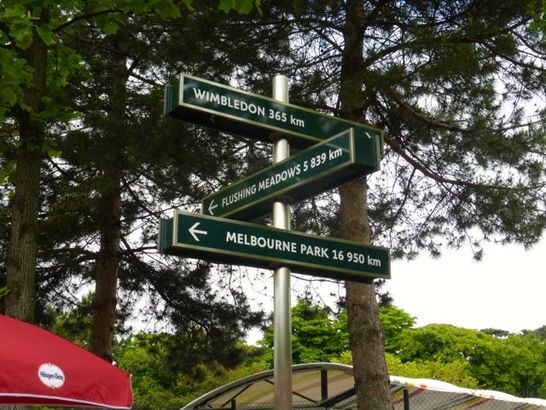 Highlights: 
Roland Garros and Veuve Clicquot.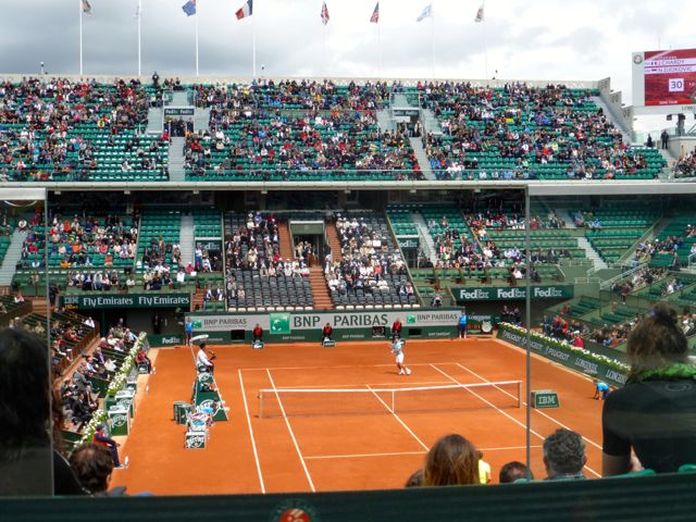 Next Up: We've heard nothing but good things about Croatia. We figured that it's time to find out for ourselves.
Comments