02 Jun 2014
Location: Brno, Czech Republic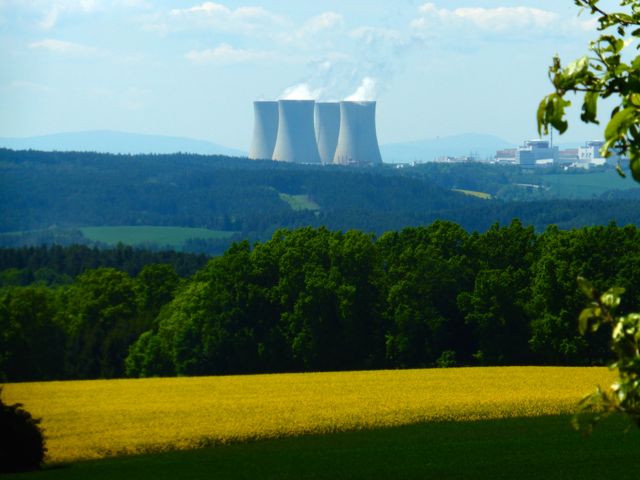 Introduction:
Rich's Bohemian ancestry led us to the Czech Republic and a sweet hotel deal led to the city of Brno. As a result, we lucked into another great, unplanned location. We marveled at beautiful green landscapes and colorful buildings. We savored delicious inexpensive food and Pivo (beer}. The people were friendly and many of them could speak some English. We made our way to the small villages where Rich's great grandparents once lived and we even discovered a surprise in their backyards.
Sights Visited:
Brno is the best city that we'd never heard of. We journeyed there to take advantage of a great hotel deal and we were rewarded with a wonderful city that attracts its share of tourists while still retaining an authentic local feel. We were impressed by the colorful buildings, large squares, cafes, delicious food and beer. And surprisingly, a lot of people spoke English and a lot of menus had English sub-titles. As we walked the streets, we couldn't believe our eyes as we discovered not one but three different Thai Massage Centers. Needless to say, we scouted them and selected one to work us over. We love modest-sized cities like this and easily could have stayed longer.
Rich is half Bohemian and Bohemia is located in the Czech Republic. So, of course, we had to set off on a "Background Czech" of Rich's ancestry. His Dad's grandparents were peasant farmers who immigrated to Iowa in the mid-1800's. We went in search of the homesteads of his great grandfather (John Klimesh) in Zverkovice and his great grandmother (Anna Mikota) in Purkarec. We drove deep into the countryside of beautiful rolling hills, small towns, farmlands and forests. We were thrilled to find his great grandfather's home partially remodeled but still in place in Zverkovice. Next, we headed for Purkarec, which is attractively situated on the Vltava River. Unfortunately, the Mikota homestead no longer exists as many of the old homes in the small town have been replaced with more modern structures. All in all, it was a lot of fun interacting with the locals trying to find the homesteads and taking it all in.
The surprise of our Czech county drive was discovering the massive Temelin Nuclear Power Plant prominently towering over the area near where Rich's ancestors once lived. We drove right by it to get from Zverkovice to Purkarec. We were tempted to stop in to see their visitor center to learn more about it but we decided to stay focused on trying to find the original homesteads.
Accommodations:
We spent our first night at the Courtyard Marriott Prague Airport, which was just a short walk from the terminal we arrived at. It was quite comfortable with a nice fitness center and good wifi. We had dinner at the hotel restaurant, which was very good and reasonably priced.
We spent 4 nights at the Holiday Inn in Brno. This was another great IHG Rewards Club PointsBreaks deal that we took advantage of. The Hotel was located within walking distance of the city center. The wifi, A/C and mini-gym were all decent.
Food and Drink:
We expected the beer to be good and it was but we had no idea that the food would be so good and so inexpensive. The average price for our meals was about $25 including food, beverage and tip. We enjoyed meats, vegetables, dumplings and much more.
Transportation System:
We drove to Paris to catch a Transavia flight to Prague. This is Air France's budget airline and they only allowed one carry-on bag. So, we had to empty our daypacks and fit them into our backpacks. After spending a night by the airport, we picked up an Avis rental car. While we booked an economy car, they set us up with a plush Volvo Station wagon that was awesome. It was the first car on our trip that came with an automatic transmission and it was really weird to not have a clutch. It also had power-everything, leather seats, a sunroof and high-tech sensors like we've never seen before. On cruise control, the car would automatically slow down when it sensed us approaching another vehicle and then speed back up when we pulled out to pass. Very Cool.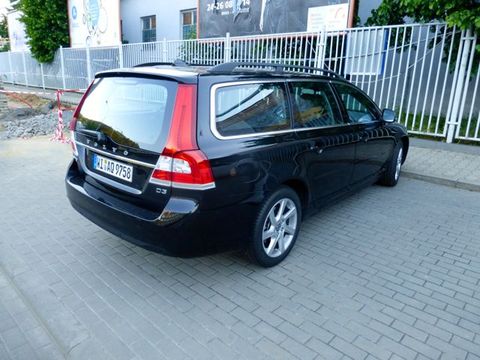 Shout Out:
We extend our thanks to Rich's Uncle Dick Kerian for providing us with all of the background on his ancestors in Bohemia. Without that, we would have been clueless. Děkuji Uncle Dick!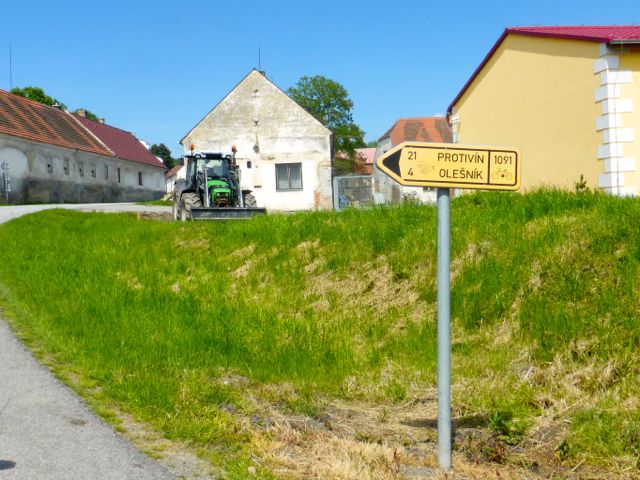 For Your Amusement:
We felt at home walking the streets of Brno when we came across places like this.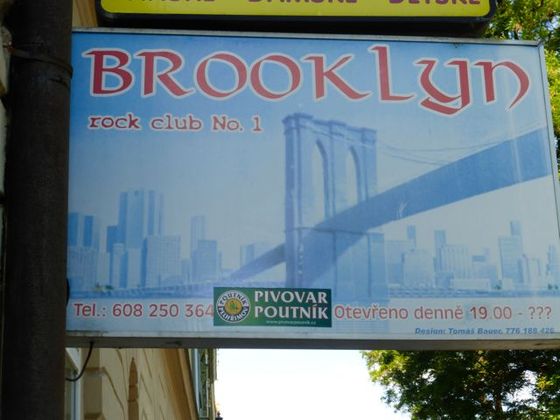 Highlights: Brno and Pivo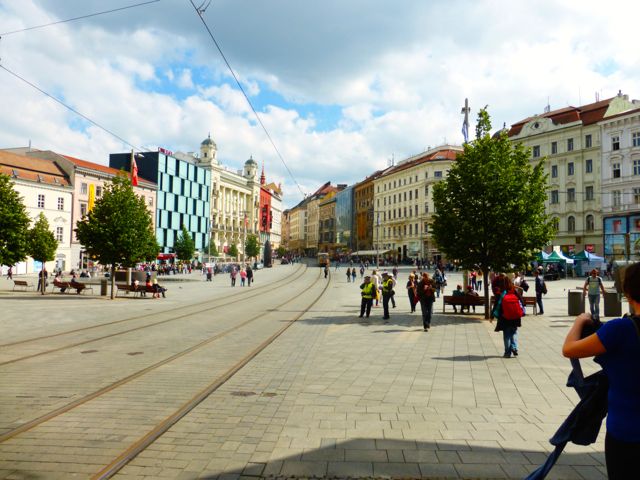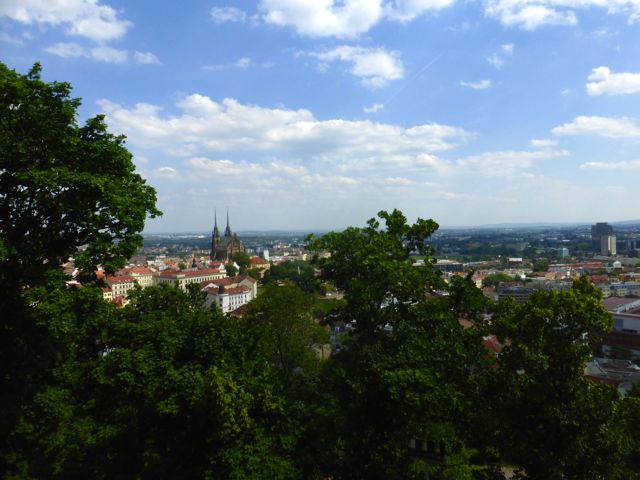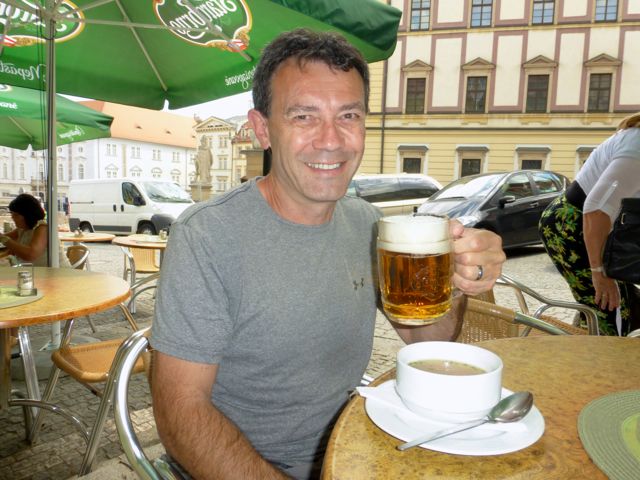 Next Up: We're off to Prague to celebrate our Wedding Anniversary.
Comments