23 May 2014
Location: Logrono, Spain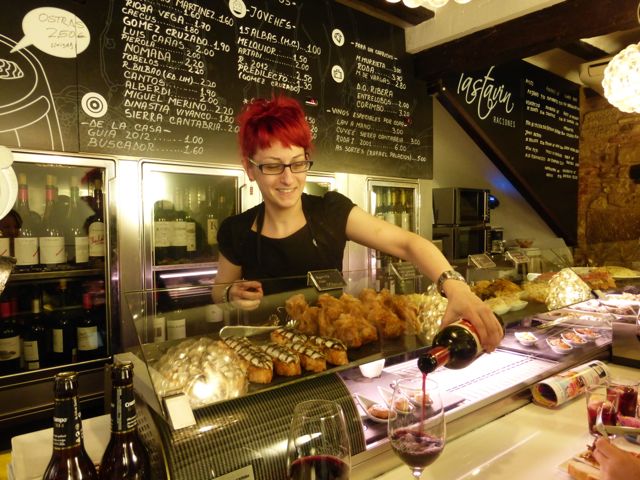 Introduction:
When it comes to food and wine, a tapas crawl in Logrono, Spain makes us very happy. We've been to Spain several times before. Thus, it wasn't on our original world travel menu. But, every now and then we would reminisce about the unforgettable Saturday night tapas crawl we did in Logrono a few years back. So, we kept an eye out for travel deals that might provide us with an encore and when we found one, we pounced on it. Whoever said, "It's never as good as the first time" was wrong. On this occasion, we had time for multiple crawls to sample more tapas and drink more wine, all within walking distance of our hotel.  We just can't top the unique experience that this place delivers. We may just have to find a way to make additional pilgrimages here in the future.
Sights Visited:
The Rioja wine region of Spain is one of our favorites owing to both its beauty and splendid red wines. The dominant red grape varietal is Tempranillo. With the exception of young wine, humorously referred to as "Wine of the Year", Rioja's red wines are aged in both barrels and bottles for extended periods resulting in fine wines at reasonable prices. Interestingly, we've found the large Rioja wine producers use the most sophisticated vineyard management techniques that we've come across. Wine production is also highly regulated and closely monitored by the government to help ensure high quality. The highlight of our winery visits was at Bodegas Bilbainas in Haro. They have an extensive facility both above and below ground and have preserved the original historic winemaking facilities. Mabel Oyono, their Director of Public Relations, spent 3 energetic hours touring, tasting and teaching us. She then sent us off with a couple of bottles of 2009 Vina Pomal Reserva to enjoy later. Muchas Gracias Mabel!
Logrono is our kind of city. It receives its share of tourists but it feels very local and authentic. The older section of the city has a number of pedestrian-only streets for strolling, shopping and dining. The modern section of the city has broad streets with numerous plazas, fountains and sculptures. They also have lots of wide crosswalks where cars actually stop for pedestrians.
The El Camino de Santiago Christian pilgrimage trail, recently popularized in an entertaining movie titled "The Way" passes through Logrono. Coincidentally, we joined up with a fun group of retirees from around the world taking a break from their trek for a tour and tasting at Bodegas Franco-Espanolas.
It's hard to imagine a better setting for a Tapas Crawl than Logrono. The pedestrian-only streets of the old city center are lined with bars that offer a variety of tapas, wines and beers. However, each bar tends to have a specialty tapa or "Pincho" as they're called locally. Thus, one can indulge in the numerous delights of a single bar or crawl from bar to bar sampling the specialties of the house. (We applied both methods.)
Accommodations:
We spent 5 nights at the AC Hotel La Rioja in Logrono as Marriott Rewards provides the 5th night free when you book 4 consecutive nights and AC Hotels is one of their brands. The room was nice and spacious. The fitness center and wifi were fair. The A/C was decent.
Food And Drink:
We dined mostly on tapas and wine. The tapas included mushrooms, peppers, octopus, sardines, potatoes, tuna and more. We also found a place to get a dessert fix of waffles and dolce de leche that we enjoyed so much in Argentina.  We usually ordered Crianza wines, which are the entry level of aged Rioja wines and they were mighty fine.
Transportation:
We used a combination of a train, subway, bus and plane to get from Tours, France to Zaragoza, Spain and then rented a car from Hertz to get us the final 150 km to Logrono where we stayed. Fortunately, we ended up with a nice little BMW 116d to get around Rioja. It was a 6-speed manual with a diesel engine.
Shout-Out:
We extend our appreciation to Steve DellaVecchia of Aveniu Brands, a Codorniu company, for setting up our fantastic visit at Bodegas Bilbainas. Thanks so much Steve!
For Your Amusement:
Imagine our dilemma trying to decide what wines to order by the glass at each stop along a tapas crawl as they offer so many choices.
We certainly had our share of fun during our tapas crawls.
One of the things that we love about Logrono is that even though a glass of wine is cheap (as little as $1), all the bars have fine wine glasses. And, they'd never refill our glasses even if we ordered another round of the same wine. They'd always give us a fresh glass. Just another reason why we love Logrono.
"Clara" or lemon beer is a popular summertime drink made of half beer and half lemon soda or lemonade. Of course, we had to try a couple…and decided to stick to wine afterwards.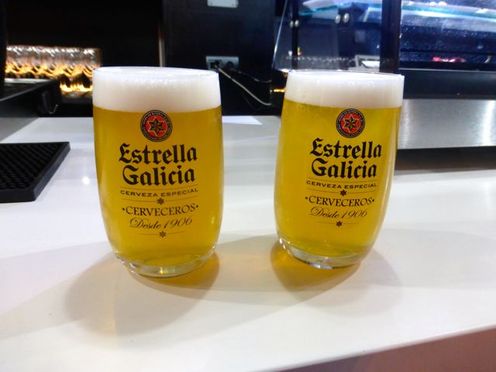 Highlight: The tapas crawls, of course!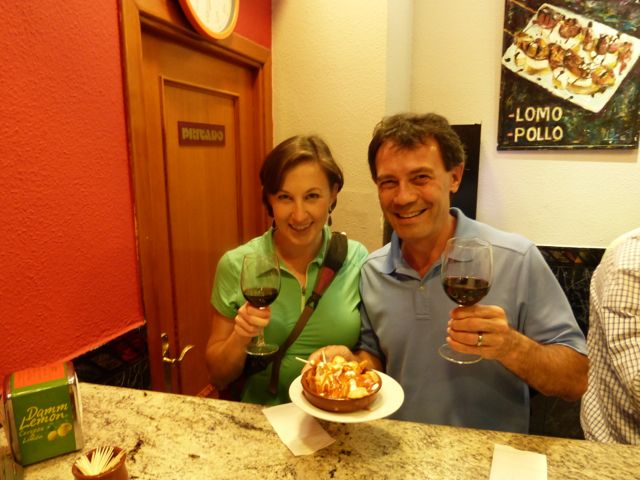 Next Up: We're returning to France for a visit to the Normandy region notorious for World War II's D-Day invasion.
Comments