13 May 2014
Location: Avignon France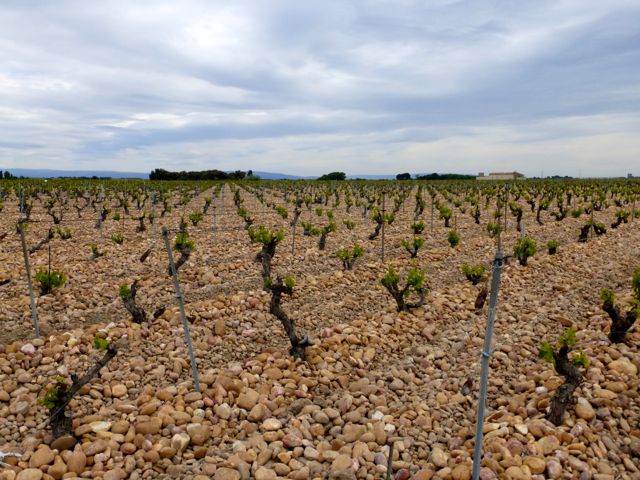 Introduction:
We drove up into the Rhone Valley for an Easter weekend stay in Avignon, a walled city with a fascinating medieval history. It's located on the Rhone River in Provence. The Rhone River Valley is one of France's famed wine regions and it has to be seen to be believed. Vines grow in unimaginable places and the wines produced are exceptional. Provence is a popular region of France known for it's quaint towns, beautiful landscapes, food and wine. We took it all in and now we understand why people fall in love with Provence. We were quickly enthralled with all that it had to offer. We loved the food, the wine, the people and the countryside. This was quite a place.
Sites Visited:
The name Avignon comes from "Avenio" which means "town of violent winds" and we experienced this first hand when the winds were whipping as we toured the walled city on a sunny yet chilly Saturday morning. Avignon has a long, storied history and is most noted as the primary residence of the Popes during the 14th century and the Palace of the Popes is a popular tourist draw. We enjoyed walking the charming streets and exploring the sights.
Avignon is located in the southern end of the famous Rhone Valley, which has numerous sub-regions for wine and we chose one of the more famous ones for a visit: Chateauneuf Du Pape. Chateau Mont-Redon is the largest wine producer in this region and we stopped in for a tour and tasting.  The vineyards in the Rhone are planted on the most unusual land with more stones than any other wine region that we've ever been to. We were fortunate to be able to taste 4 different vintages of their Chateauneuf Du Pape (CDP) Rouge (Red) and 2 of their Blanc (White). CDP wines are almost always blends with Grenache usually the predominant varietal, which is good because we really like Grenache. In addition, they produce Cotes Du Rhone Rouge and Blanc as well as wines from the nearby Lirac region. The wines we tasted impressed us so much that we bought 3 bottles to take away: the 2004 Chateauneuf Du Pape Rouge and 2 bottles of the 2011 Lirac Rouge.
The Luberon region lies to the east of Avignon and we spent a day exploring it. We ended up in the town of Gordes high up on a hilltop offering panoramic views of the scenery below.

Accommodations:
We chose the Ibis Budget Hotel for a 4-night stay in Avignon. It is conveniently located just outside the walled city with ample free parking in the area. It was about as basic as a hotel can get with more of a hostel feel but the price was right and it met our needs. Elizabeth labeled it "Cheap and Cheerful". The wifi was also good and there was no extra charge for the small lizard and mosquitos hanging out in our room.
Food and Drink:
The food and wine continue to be fabulous in Southern France. We finally got our Thai fix at "Thai Trucks" in Les Angles. The restaurant had a cool vibe and was packed on a Friday night. We discovered a fantastic indoor market in Avignon named Marches Les Halles, which is actually a common name for indoor markets in France, and we took advantage of it on several occasions. We also enjoyed dining out on crepes, soups, salads, seafood and more.
Transportation System:
We extended our rental car from Marseille, which made it easy to explore the Rhone valley and Provence.
Shout-Out:
We must thank the proprietor at Le Vin Sevant Soi wine shop in Avignon who provided us with an excellent education on the sub-regions and fine wines of the Rhone Valley. He had the enomatic wine dispensers that enabled us to sample wines from around the Rhone Valley. We bought a bottle of our favorite from the small Beaumes-de-Venise sub-region.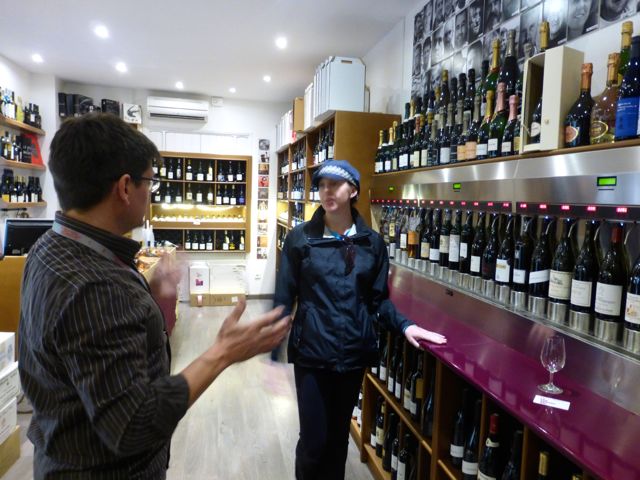 For Your Amusement:
At the Ibis Budget Hotel in Avignon, there was no room key. Instead, we were given a 6 digit PIN code. That's a first for us and we actually preferred it.
It was Easter weekend while we were in Avignon and somebody needed some bunny love. Unfortunately, our poor Easter Bunny got injured during transport.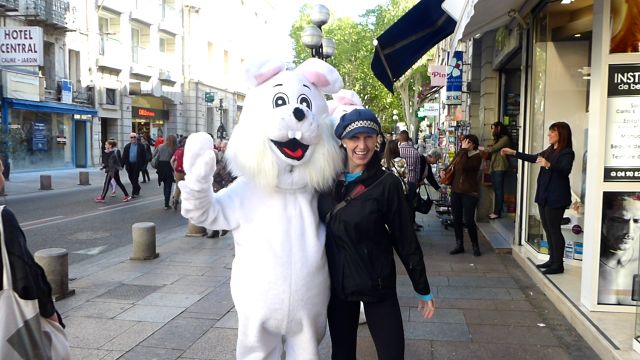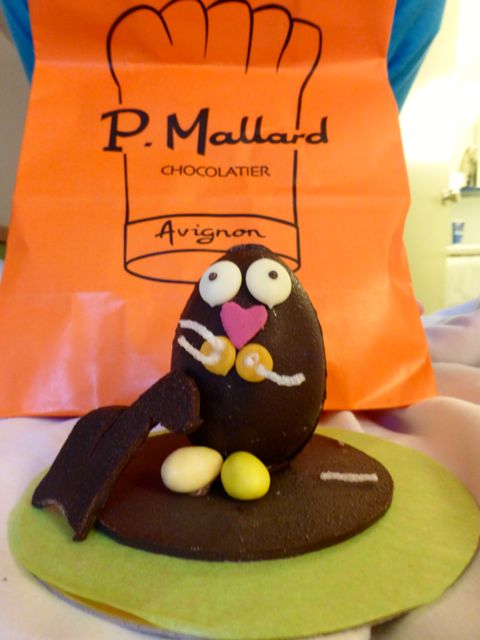 Highlights: Avignon and Luberon
Next Up: We can't believe that we're finally going to the most famous of all wine regions: Bordeaux.
Comments