27 May 2014
Location: Normandy, France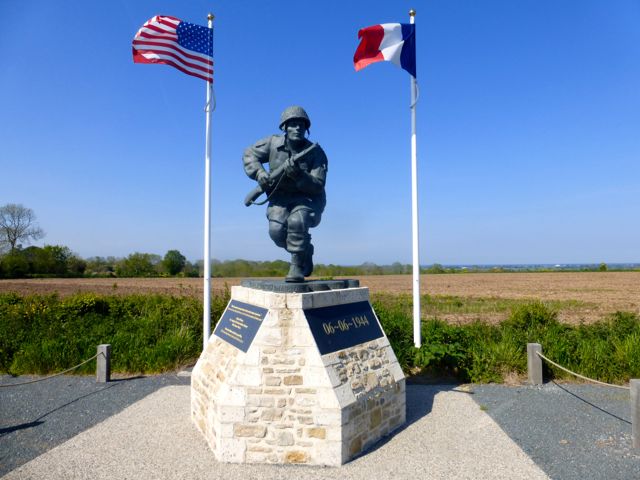 Introduction:
We dedicate this post to the brave allied soldiers who fought so courageously for our freedom 70 years ago on the beaches and in the fields of Normandy. We wanted to come and see where World War II's D-Day unfolded on June 6, 1944. To better prepare ourselves in the days leading up to our visit, we watched "Saving Private Ryan" again and read
The Longest Day
. We booked a guided tour to gain even more insights. Despite our preparations, our imaginations fell far short of comprehending the scale and magnitude of the invasion. Walking on Omaha Beach filled us with raw emotions of both deep sadness and heartfelt gratitude for the personal sacrifices made there. This was one of those places that has profoundly touched us and imparted everlasting impressions.
Sites Visited:
We arranged a full-day tour (www.overlordtour.com) with a special emphasis on Omaha and Utah beaches where the American soldiers landed. It was excellent. Our guide, Colin, possessed a Masters in History and imparted a wealth of knowledge. For example, we knew that the invasion took place at low tide but we had no idea that 400 yards of beach is exposed at that time. We were skeptical of this information as we walked Omaha beach near high tide. When we arrived at Utah beach later in the day, we became believers. Our tour helped pull the pieces together for us by providing insights into the strategic placement of enemy forces and equipment along with the roles of allied paratroopers, naval forces, infantry, medics, engineers and more.
We took a drive across the Cherbourg peninsula to visit one of Frances's most recognizable landmarks: Mont Saint-Michel. It's an extremely popular tourist destination that stands out prominently from many miles away.
Accommodations:
We spent 1 night at another "cheap & cheerful" Ibis Budget hotel in Rouen where the wifi was good.
We found another studio apartment on Airbnb where we stayed 4 nights in Caen. This time, we were in the basement of our host family's house. It was compact in size but amazingly included a microwave, dishwasher and washing machine.
Food And Drink:
The French food continues to tempt us and our willpower has been weak. Consequently, our waistlines are expanding. Fortunately, we haven't come across a scale since we arrived in France. Thus, we can continue pretending that we're burning it all off in the gym. There's no wine produced in this region of France but they're known for their apple cider and brandy. We, of course, had to sample both.
Transportation System:
We flew back to France from Spain on Ryanair and rented another Fiat Punto from Hertz. This is a car that we'd become familiar with in Italy. It likes to guzzle gas but served us well otherwise.
Shout Out:
Everywhere we go in France, the local people inquire about our experiences with the French people. There continues to be a lingering reputation that the French can be rude to foreigners. In our experience, nothing could be further from the truth. We have found the people throughout France to be warm and welcoming. When we ask a local if they speak English (Parlez-vous Anglais?), they usually reply "No" even though we often find that they can speak much more English than we can French. But, it's not because they are being rude. Rather, we think it's a lack of confidence in their English and they often apologize for their poor English once they start conversing with us. We've been quite impressed with how many French people are able to speak some English and we applaud them for trying so hard!  Merci Beaucoup!
For Your Amusement:
We showed up late at the Ibis Budget Hotel and it was unattended except for the self-serve kiosk that impressively checked us in and provided a 6-digit PIN code to gain access to our room.
We went to a Tex-Mex restaurant in Rouen and ordered a couple of Coronas. Imagine our surprise when they arrived with straws in them.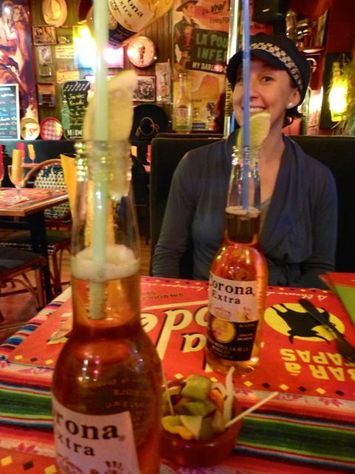 We must say that we were quite surprised to see a Japanese flag flying over Mont Saint-Michel. When we inquired about it at the local tourist office, we learned that it was in honor of a visit from dignitaries from Miyajima, Japan that is a small island town near Hiroshima that we visited back in October.
Highlight:  The Tour of The D-Day Invasion Sights
Next Up: It's "Pivo" time as we're lifting off for the Czech Republic.
Comments