09 Apr 2014
Location: Udine & Verona, Italy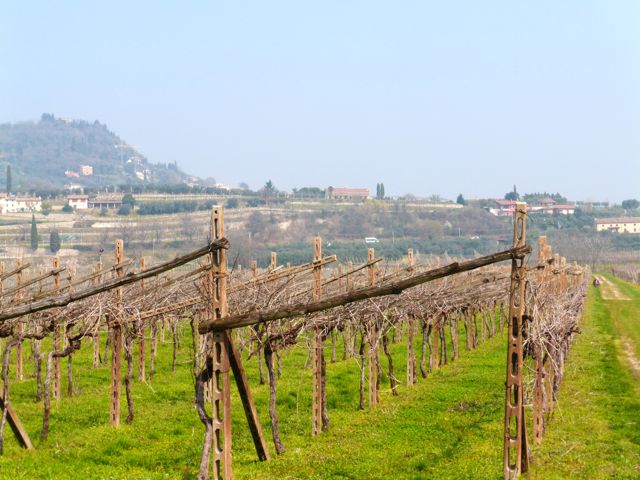 Introduction:
Italy is the world's 2nd largest wine producing region. We've been enjoying their wine for years. We once spent a week exploring the Piedmont wine region in the northwest of the country but we still felt like we have so much more learning to do. So, we started out in the northeast area of the country where we mixed together some wine touring and sightseeing. We started in the Friuli wine region known for its white (bianco) wines and ended up in the Valpolicella wine region noted for its red (rosso) wines. After a visit to the city of Udine, our passion for wine led us to Verona, the home of Romeo & Juliet. This was a welcome bonus. We enjoyed the food, wine and people that we met. Our only disappointment was the constant blanket of smog and haze that limited our visibility and kept some of the countryside's true beauty hidden from us.
Sights Visited:
Our first stop was to a winery named
Scarbolo
in the Friuli wine region. It's a small winery with a good reputation. Daniela has been with them for 7 years and she provided us with a tour and tasting. Elizabeth and Daniela discovered a common bond in that they'd both worked for Frederick Wildman, a wine importer in NYC. The Friuli wine region is known for their white wines, especially Pinot Grigio and Friulano. We enjoyed Scarbolo's white wines, including a copper colored Pinot Grigio but we were even more impressed with their red wines and bought a bottle of their Merlot, which was simply delicious.
We took a day to wander around and explore
Udine
. It's a charming city that doesn't get a lot of tourists. We especially enjoy cities like this because they give us a better sense of the true Italy.
We spent an afternoon roaming around the streets and plazas of
Verona
. We came across some impressive Roman ruins including a large arena. Of course, we also had to visit the home of Juliet and see the balcony where Romeo would visit her.
We drove through the small wine regions of Soave and Bardolino and then we focused in on the wine region of
Valpolicella
where red wines are favored. We visited 3 wineries: Allegrini, Masi and Speri as we had previously enjoyed wines from each of them. We got a great education on the region's wines with each stop imparting more knowledge.Wine produced under the name of Valpolicella is usually a young, lighter wine similar in style to Beaujolais Nouveau from France.  Did we like it? To quote Elizabeth: "I want Valpolicella every day…it's so good!" But, that's not all that the Valpolicella wine region has to offer. They're also known for "Amarone", a wine where the grapes are dried for 4 months before they're crushed. This results in a much more intense wine that is sometimes referred to as a
meditative
wine.  They also produce a wine in between the two called Ripaso, a nice dessert wine called Recioto and Grappa, a spirit made from the grape skins.Once again, we were fortunate to benefit from Elizabeth's business relationships and were treated to a tour and tasting at Speri with Giuseppe Speri, a 7th generation member of the winemaking family. Speri was already one of our favorite Italian wine producers and our visit made us even bigger fans.
Accommodations:
We spent 2 comfortable nights at Casa Angela, a B&B in Udine. It was really spacious as we ended up with a 2-bedroom suite with a living room and full kitchen. All that it lacked was a microwave. We were able to easily walk to a fitness center and the city center.
We spent 2 nights at Bagolina B&B in Verona and it was another fine accommodation that was located on the edge of the city and the beginning of the Valpolicella wine region. Our suite included a small kitchen and a washing machine.
Food & Drink:
Even though we've had the facilities to cook, now that we're in Italy, why would we? We've been eating out a lot enjoying pasta, seafood and more. Here's a sampler.
Transportation System:
We rented a Fiat Punto with a manual transmission from Avis in Venice and drove about an hour and a half northeast to Udine. They drive on our preferred right side of the road. The 2-lane highways are very good but tolls and fuel are very expensive at about $10 US per gallon.

Shout Outs:
We'd like to thank Vince Triggiani from Allied Beverage Group and David Bentley from Empson USA for connecting us with Chiara Speri. We'd also like to extend our appreciation to Giuseppe Speri for taking the time to educate us during his tour and tasting. Grazie to all!!!
For Your Amusement:
We were surprised to see a quote from "Forest Gump" on a chalkboard in a local restaurant named Aquila-Nera in Udine. Elizabeth figured it out right away. See if you can…
We wanted to hoist a pint of Guinness to celebrate on St. Paddy's Day but alas the Irish Pub we found in Udine was closed during the day.
What's our favorite restaurant from Kenilworth, NJ doing in Verona, Italy?
Highlights: Touring the Valpolicella Wine Region
Next Up: We've always heard wonderful things about Tuscany but we've never been there. So, it's off to Florence.
Comments