10 Feb 2014
Location: Santiago, Chile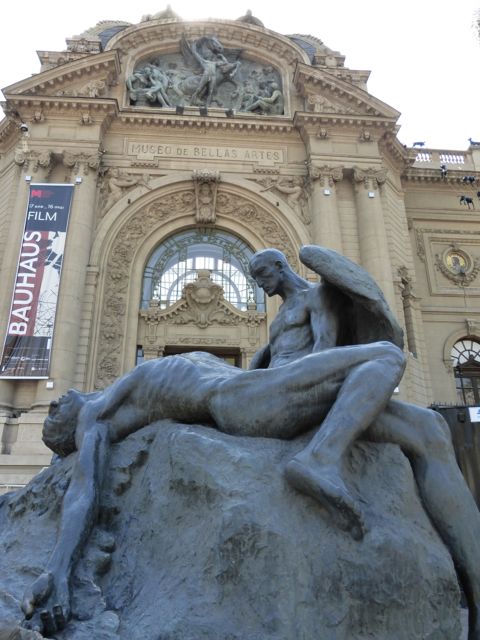 Introduction:
We finished up our visit to Chile and South America with 5 days in the capital of Santiago. We only scratched the surface of this fine city as we took some time to slow down and focus on planning the next major phase of our trip. This was a great place to just hang out and take it easy. There are lots of attractive areas, statues and parks. Santiago is home to the tallest building in South America called Gran Torre Santiago, which reminded us of home, as it resembles the Goldman Sachs tower in Jersey City. There were also a lot of familiar American franchises that we were surprised to see such as PF Changs. The city has a beautiful backdrop as it is close to the Andes Mountains and foothills. This is a city that we would welcome the opportunity to visit again and explore further in the future.
Accommodations:
We drained our Hyatt account to stay 5 nights at the exceptional Grand Hyatt in the Las Condes neighborhood of Santiago. It's been our experience that Hyatt offers the best value of all of the major Hotel chains with their Gold Passport program.
Food And Drink:
We loved the food and wine in Santiago. We finally found some good pizza in South America at Tiramisu Pizzeria, which we enjoyed with salad.  We were overjoyed to find our first Thai food in South America and surprisingly the Thai restaurant was located in our hotel. We shared some fresh sushi with Ximena at Ichiban. The fine wine tasting and fresh seafood indulgence continued at Bocanariz Wine Bar in the fine arts district.  Our final meal in Chile at Miraolas did not disappoint with more great seafood, including the local favorite of Conger Eel, and fine wine of course.
Transportation System:
We turned in our rental car when we arrived in Santiago. They have a subway system in the city but when we learned that it isn't air conditioned, we decided to stay above ground and walk or use the taxis, which worked out just fine.
Shout Out:
We offer up a toast to Ximena Pacheco from Miraolas Restaurant, one of many excellent recommendations that she provided us with while we were in Santiago. Here's to you Ximena!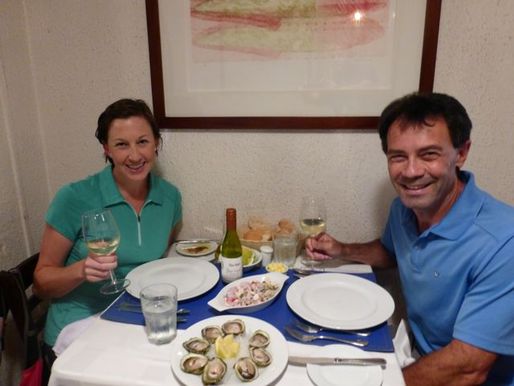 For Your Amusement:
The waiter at Miraolas Restaurant took us behind the scenes to see just how fresh the seafood was.
Chile Wrap Up:
We thoroughly enjoyed Chile and it really exceeded our expectations. We set out hoping to find good wines and we found plenty. We found some good Cabernet Sauvignon, Pinot Noir and Sparkling wine and especially enjoyed the Chardonnay, Carménère and Syrah that we tried. We also discovered that Chile is producing some of the best Olive Oil that we've ever tasted. The country is beautiful and reminded us very much of California. We've enjoyed spectacular weather and see Chile as a great winter get away from North America in our future.
Next Up: 
Africa…this will be our first visit to the continent and we'll start at the bottom in Cape Town, South Africa.
Comments