23 Feb 2014
Location: 
Mossel Bay, Knsyna, & Cape Point, South Africa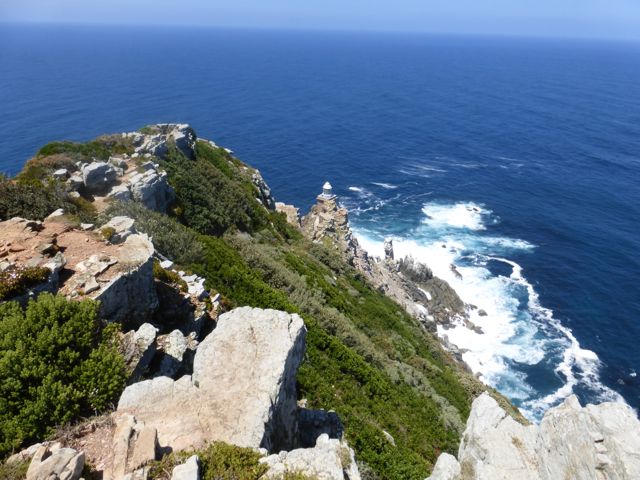 Introduction:
One of the popular things to do in South Africa is to drive the "Garden Route" that runs along the Indian Ocean well to the east of Cape Town. Given that it's the middle of summer and temperatures are cooler along the coast, we decided to give it a go. We drove about 300 km from the wine country to reach the start of the Garden Route in Mossel Bay. It was a pleasing drive as there were lots of wide-open spaces below the mountain range that we paralleled. There was plenty to see and do and we explored the area for a few days but decided that we liked the coastal areas closer to Cape Town better and headed back in that direction. We set a course for the Cape of Good Hope in Cape Point National Park. This is the furthest southwestern point of Africa and was well worth the trip.
Sights Visited:
Here are some pictures of the scenery from our visit to the Garden Route:
Here are some views on our way to Cape Peninsula. This is the general vicinity of where the Indian and Atlantic Oceans meet:
Here are some shots of us having some fun as we hike around Cape Point and the Cape of Good Hope along with some of the wildlife we encountered:
Accommodations:
We stayed 1 night at
Whale-Phin Guest House
 in Mossel Bay. There was no a/c but the wifi was decent and they served an impressive breakfast on their balcony overlooking the Indian Ocean.
We stayed 1 night at
Tonquani Lodge
in Knsyna where we had a sweet chalet with a/c and decent wifi. We wanted to stay longer but they were full. While there, we took advantage of their spa and got our first massage since back when we were in Asia.
Transportation System:
We continued to drive our VW Polo and put on over 1,000 km covering the Garden Route and Cape Peninsula. We can't get over how inexpensive it was to rent this car from Avis. The price was about one third of the average daily price we've paid for rental cars on our trip.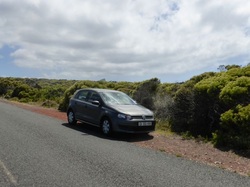 Shout Out:
It's worth noting that we've found the South African drivers to be the most courteous of anywhere we've driven. They'll even drive on the shoulder of the road so that you can pass them on single lane highways.
For Your Amusement:
Here's a warning sign that we'd never seen before:
We found some interesting potato chip and soup flavors at the local Pick and Pay supermarket.
Highlight: 
Cape Point and Peninsula National Park was spectacular.

Summing Up South Africa:
We thoroughly enjoyed South Africa. The scenery everywhere we traveled in the coastal areas of the country was stunningly beautiful. With the favorable exchange rate, it provided great value. We were able to eat out at nice restaurants at less than half of what it would have cost us back home. Our only reservation was the constant reminder to take precautions for our safety. Fortunately, we did not encounter any issues. We can't wait to come back again.
Next Up: It's time to start taking our Malaria pills as we're heading out on a 10-day safari in Uganda.
Comments