11 Jan 2014
Location: Cafayate and Purmamarca, Argentina
Introduction:
After a month in Argentina, we finally made it to the wine region and our introduction was as good as it gets. The drive down from Salta was very picturesque with stunning scenery to keep us company. At about a mile above sea level, Cafayate is the highest major wine-producing region in the world. It has very warm days and very cool nights, which is great for growing grapes. We came to Cafayate expecting to find great white wine made from the Torrontes grape and we did. What we didn't expect to find is that they are also making great reds including Malbec, Cabernet Sauvignon, Tanat and some blends.  Elizabeth reached out to a former colleague at Fredrick Wildman & Sons (a fine wine importer in NYC), and she very graciously arranged visits to a couple of wineries for us. We left Cafayate on a wine high and headed about 300km north to Purmamarca to take in some more astounding scenery. We've been fielding questions about what has surprised us on our trip. One thing that we can say for sure is that the beauty of Argentina has far exceeded our expectations.
Sites Visited:
Accommodations:
When Maximilliano learned that our original accommodation fell through for Cafayate, he treated us to a room at Patios De Cafayate Hotel & Wine Spa on the Bodega El Esteco property. Wow, what a treat. The location in the heart of the valley surrounded by vineyards and mountains was idyllic. We settled in and soaked up the wine and the beauty while dining in at their fine restaurant. This clearly was one of the best days of our trip.
We would have stayed another night but the hotel was sold out. So, we headed into Cafayate the next day and booked a private room at La Montana Hostel, which was very nice, especially for a Hostel. A simple but good breakfast was included.
In Purmamarca, we stayed one night at El Refugio de Coquena, a very nice B&B. We were a little hesitant as there was no A/C and the temperature reached up around 90 during the day. But, none of the other places we looked at had A/C and they assured us that it really cools off at night and they were sort of right. Unfortunately, their Wi-Fi was useless.
We returned to Salta for 1 final night and stayed at the Sheraton. Unfortunately, it was not a good experience due to service and room issues. We kept our cool even though our room was too warm and our persistence finally resulted in a change of rooms late at night. On the bright side, they had a nice fitness center and we were able to squeeze in a couple of much-needed workouts.
Food and Drink:
The local wines are fantastic and made great accompaniments to the delicious local dishes that we enjoyed including pork loin in wine sauce, quinoa & vegetable soup, tomato & cheese empanadas and goat stew, salad & sweet corn casserole. On a hot afternoon, the local beer is pretty refreshing too!
Transportation: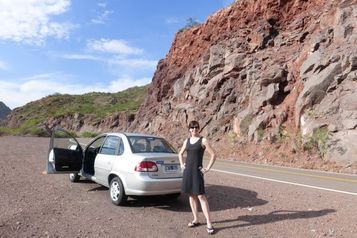 We decided to rent a car to see some of the sights in Northern Argentina and give us maximum flexibility to do things at our own pace. Once again, prices were high. So, we shopped around and found the best deal online at Budget.com. We got another Chevy but this one was a little bigger and had power steering (everything else was manual). The highways are just a single lane in each direction and the roads curve through the mountains making travel a slow go. It took over 3 hours to go the 190 km from Salta to Cafayate as our average speed was only about 35 mph. Driving in Argentina continues to be a challenge. It's really tough trying to adapt to intersections in major cities with no traffic control lights or signs. The drive north from Salta to Purmamarca was insane as there's a long stretch of never-ending hair-pin turns through the mountains on a road so narrow that its almost impossible to stay on the pavement when a car approaches from the opposite direction. We also encountered frequent police control checkpoints on the roads, which keeps us wondering why they're there.
Shout Outs:
For Your Amusement:
While Southern Argentina had its speed bumps; Northern Argentina added a new twist with speed dips with warning signs adapted accordingly.
We love Argentina's Llamas:
Highlights: 
Fine wines and fine locations.
Next Up: Mendoza…the wine capital of Argentina
Comments