30 Dec 2013
Location: El Calafate & El Chalten, Santa Cruz, Argentina
Introduction:
Patagonia covers a large area of southern South America, including Tierra Del Fuego where we started our visit to Argentina but it could be said that the heart of Patagonia is found in the province of Santa Cruz where we've spent the past week exploring both the southern and northern ends of Parque Nacional Los Glaciares, which are served by the small towns of El Calafate and El Chalten respectively. The scenery throughout this area is stunning with snow-capped mountains, blue glaciers, aqua blue lakes and wide-open spaces where you can see for miles and miles in every direction. Both towns primarily exist to support tourism. The astonishing Perito Moreno Glacier is the star attraction that draws people to El Calafate.
Hiking inside the park is the primary draw for El Chalten. It's like heaven for hikers and backpackers and we felt very comfortable there. It's so remote that there's no cellular phone coverage. The town had a cool vibe with many small restaurants offering food, wine and beer tastings in the late afternoons.
One of the disappointments in Argentina is what we're calling the "Tourist Tax" as tourists are charged much more for many services. Airfares for tourists flying within Argentina are almost double what Argentineans pay. Also, the entrance fee per person for Los Glaciares National Park to see Perito Moreno in the south is 15 pesos (~$2.50 US) for Argentineans, 40 pesos (~$7 US) for South Americans and 130 pesos (~$21) for all other tourists. Interestingly, the park entrance in the north was free for all, which was a very pleasant surprise. Another challenge is the limited access to cash. ATM's were limiting us to withdrawals of 1,000 pesos (~$155 US) or less while charging a $6 US fee. This became a problem in that many hotels, restaurants and stores only accept cash. We also had to pay small exit taxes at the airports and bus stations. We heard similar grumblings from other tourists along the way.  In the end, all these fees add up and make it much more expensive to visit here than what it could be.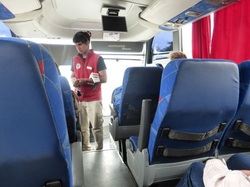 Sites Visited:
El Calafate, Parque Nacional Los Glaciares, Perito Moreno Glacier, Laguna Nimez Nature Reserve, Lagos Argentinos & Viedma and Lagunas Torre & De Los Tres. The glacial ice cap in the park is the largest outside of Antarctica & Greenland. We took a bus and a boat to get right up next to the famous Perito Moreno glacier in the southern end of the park. This worked out well as it provided cover from the rain and wind that day. In the northern end of the park we were able to hike to several glaciers. The hikes were both demanding and rewarding. We usually packed a lunch and enjoyed it while we marveled at the many wonders that the park had to offer.
Accommodations:
We stayed 3 nights in El Calafate at the Kosten Aike Hotel. We had a spacious room and our rate included breakfast, which was pretty basic. They had a bare bones fitness center but it was only open from 5 – 9 pm, which is really weird. Once again, there were numerous dogs roaming freely in the neighborhood and serenading us at night.
We opted for another apartment stay in El Chalten where we stayed 4 nights at Vientos Del Sur Aparts. It was situated on the outskirts of town making it nice and quiet except for the wind that would often howl at 30 mph or more. We put the kitchen to good use and ate in several nights.
Food & Drink:
We ate out each of our 3 nights in El Calafate. We focused on trying various stews (Chicken, Lamb, Vegetable & Lentil) on the menus at Isabel's Cocina Al Disco and Pura Vita. We liked Isabel's so much that we returned on our last night in town. We ate out a couple of times in El Chalten where we got a Pizza fix at Patagonicus and a Veggie fix at Prana's. We tried some local craft beers but favored the local standard of Quilmes over them. We were on our own for breakfast in El Chalten. We settled on cereal where the selection was quite limited. Interestingly, there was no fresh milk to be found but the packaged stuff tasted just fine. El Chalten is fairly small and we pretty much walked the whole town. We ended up making purchases from 8 different stores to put together our meals. We were able to purchase fresh baked bread and empanadas, home made ravioli & sauce and found a decent selection of wine at a restaurant store (Estepa). Thus, we enjoyed eating in most nights. We've been getting into the habit of enjoying a coffee or tea in the afternoon with an occasional indulgence as our reward following a long hike. Many Argentineans prefer to drink Mate instead of tea or coffee. In El Calafate, Elizabeth decided to give it a try and enjoyed it. In El Chalten, we discovered La Walfleria where the fresh waffles we ordered were topped with 3 scoops of ice cream. We liked the local favorite flavor of dulce de leche the best and loaded up on it on our next visit.
Transportation System:
For some reason, car rentals were double the price of what we paid in Ushuaia. So, we decided to pass and rely instead on buses and foot with one shared taxi ride thrown in to get us from the airport to El Calafate. The buses were comfortable and on schedule and served us well. The bus ride from El Calafate to El Chalten was about 3 hours.
Shout-Outs:
We'd like to thank all of our family and friends who are following our adventures on this blog. We really miss you guys. We send our love and best wishes to each of you and hope that you get to do whatever it is that you enjoy during the holidays.
For Your Amusement:
Sometimes travel connections don't quite work out the way we'd like. This leads to creative ways to still get our daily siesta in.
In El Chalten, the streets are usually empty as most people get around by walking making the street available for other purposes.
Highlight: Patagonia's awe-inspiring natural beauty.
Next Up: Buenos Aires and Salta, Argentina
Comments