03 Nov 2013
Location: Singapore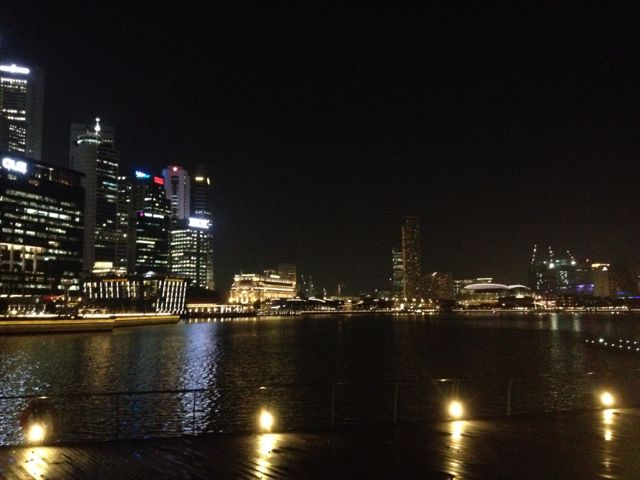 Introduction:
We've been looking forward to visiting Singapore for some time and arrived here with high expectations. We were not disappointed. Among other things, Singapore is known for its food and it lived up to its reputation. Our first taste of food was in our Hotel's Club Lounge where we'd been comp'd access due to a problem with our original room assignment. They provided a nice assortment of small appetizers and each was delicious. We both agreed that this was far and away the best Hotel Club Lounge food we'd ever had providing a promising start to our visit.The climate is tropical and we were greeted with some rain showers each day. One thunderstorm produced a crack of thunder so loud that Rich thought there'd been an explosion. We thought that Hong Kong was the shopping capital of Asia. However, we now think Singapore has it beat. We've never seen so many malls in one place as we did on Orchard Road.While there are many different languages spoken in Singapore, English is the common denominator making it super easy to communicate. The streets are wide and clean and the air is clear. We found many familiar products in the grocery stores. This is the closest we've felt to home in Asia. Singapore is rather tiny as a country but there's plenty to see and do. We easily could have spent more time here. However, it is expensive and we've had to book our flights 14 days in advance to avoid getting gouged on airfares. So, we had to move on and we'll just have to come back again someday to see what we've missed. If you ever want to get a taste of Asia without leaving your comfort zone, then Singapore is the place for you.
Sites Visited: 
Chinatown, Orchard Road, Singapore Turf Club, Marina Bay, Little India and Singapore Botanic & National Orchid Gardens. 
Chinatown was hopping with lots of shopping stalls and restaurants. Rich was in need of a horse racing fix and it just so happened that they were running the 2nd leg of the Singapore Triple Crown (the $500K Raffles Cup). Unfortunately, some rain dampened our visit and the long shot we backed "Born To Fly" could only manage a fast closing 4th place finish. Little India was impressively all lit up for Diwali (the festival of lights). Marina Bay is adjacent to the high-rise financial district and home of a few high-end casinos. We checked out the Marina Bay Sands, which also had a large mall for shopping. The Botanic & Orchid Gardens were lovely and well worth the visit.
Accommodations:
We stayed at the Royal Plaza Hotel on Scotts. It was just off of Orchard Road and a short walk to the Orchard Metro Stop. Thus, we were in the heart of the shopping district and able to walk to quite a few places such as the Botanic Gardens. The accommodations were very nice and included a free mini-bar in the room. It had a small but functional fitness center. The service was very good and we'd definitely stay there again.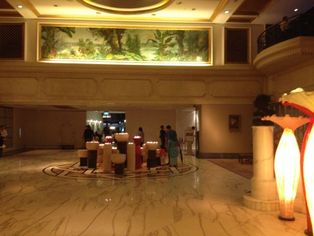 Food And Drink:
Singapore is well known for their food and we sampled a wide variety even though our visit was short. Singapore has set up food centers called Hawker Stands around the city to keep things orderly and that's where the "street food" can be found. We headed out for the locally renowned Chicken Rice at Tian Tian's and joined the line. This is a very tasty and healthy dish that we wish we had available back home.
In Chinatown, we ate at Old Chengdu and had our spiciest dish ever: "Fish in Chili Oil". It's about as hot as we can handle. The broccoli in crab sauce looks like it was dropped in white goo but is much tastier than it appears.
We made a couple of visits to the Dempsey Hill area. We normally don't eat dessert but we had a light lunch at Dome Cafe and enjoyed the best Molten Chocolate Lava Cake we've ever had. It was as close to perfection as one can get and ranks as the 2nd Best Dessert we've ever eaten. (The 1st was a Sticky Date Bread Pudding that we'll never forget a few years back in the Hunter Valley of Australia). We had another lunch in the area at Jumbo Seafood and made a mess devouring the "Chili Crab", which is another Singapore specialty. While we did enjoy it, we decided that it was too much work. You may recall that we prefer to have the chefs do all the work for us so that we can just savor the food.
We also enjoyed some fine Italian food at Pete's Place in the Grand Hyatt. Despite all the great food, we still managed to dine in one night following a big lunch. Just when we thought we were done with Singapore's fine food, we had the best scones we've ever had in the Changi Airport at Cedele's before we flew off. We came to Singapore with high expectations of their food and they came through with flying colors providing us with some great food experiences that we'll never forget!
Transportation System:
The MRT subway system was great and met most of our transportation needs taking us from the airport to our Hotel and beyond. We used a couple of taxis and they were clean, comfortable and reasonably priced.
Shout Out:
We'd like to thank Elizabeth's brother Robert Coffey for originally turning us onto Hotwire to find Hotel bargains. We used betterbidding.com and Hotwire to get a good deal on our Singapore Hotel. This is our first Hotwire score outside the U.S.. Thanks Bro!
For Your Amusement:
We ventured out one evening to see the harbor and get a drink at a rooftop bar of the Marina Bay Sands Casino Hotel. Unfortunately, there's a dress code and we were turned away, which we found amusing. There's just no room for dress clothes in our backpacks. Some of the malls on Orchard Road offer specialty stores that we've never seen before. Finally, on the shopping front, they tell it like it is in Singapore.
Highlight:  The Food And The Gardens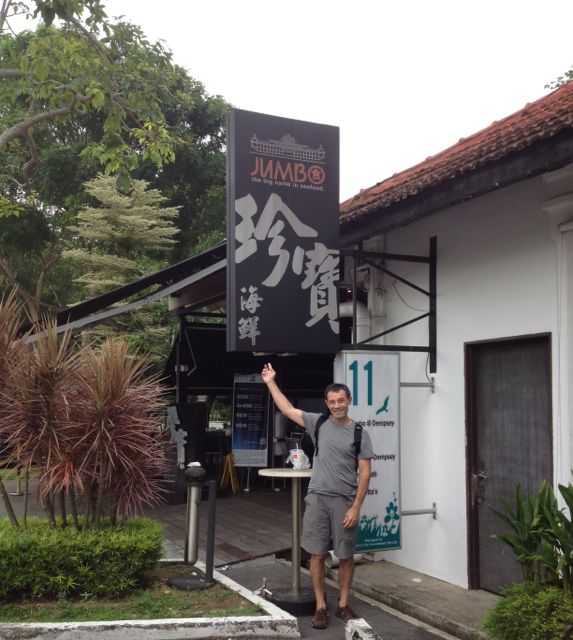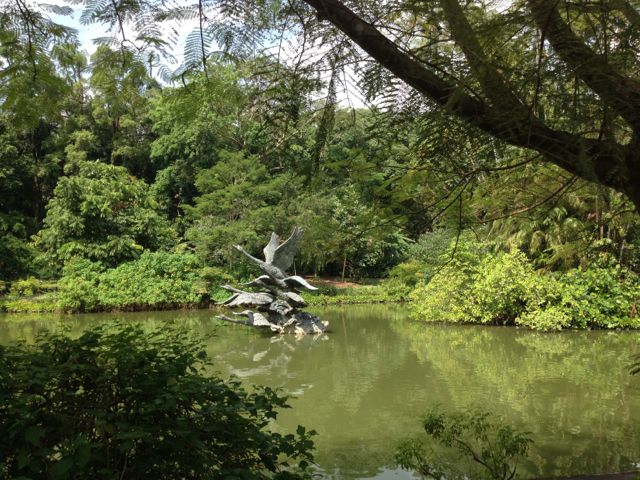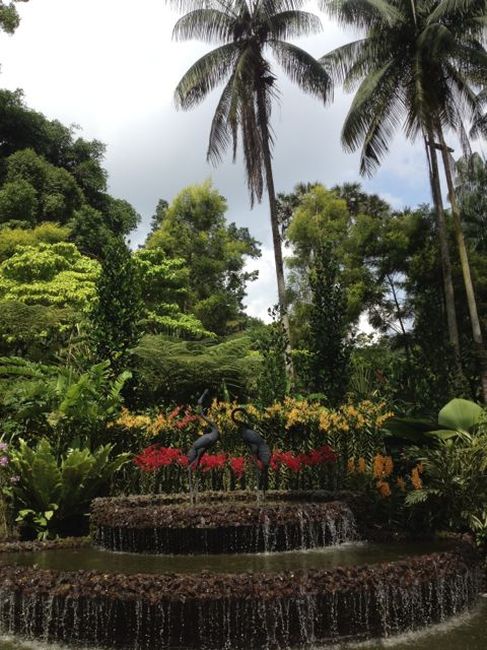 Next Up: Bali
Comments