09 Nov 2013
From Bali Whoa to Bali High
Location: Bali, Indonesia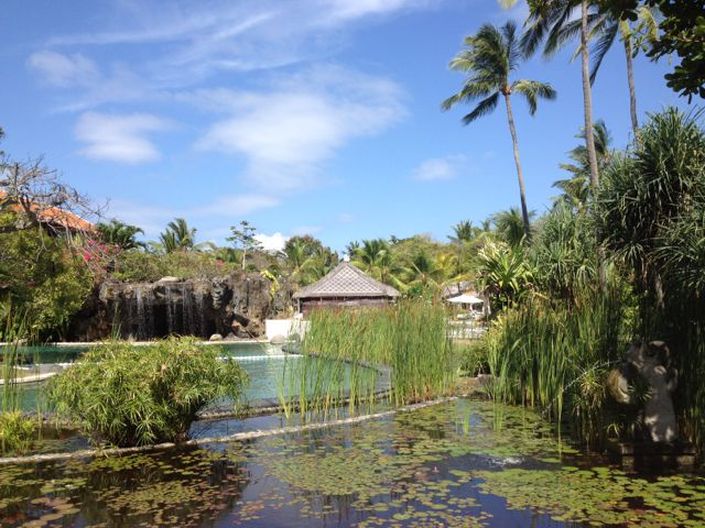 Introduction:
We finished our Asian tour in Bali because we'd often heard it mentioned as paradise on earth. Our first impression however was: Whoa, Really? We chose to start out in Ubud (home to Eat, Pray Love), about an hour's drive inland from the airport.  Ubud is known as the cultural center of Bali and we figured it would be more laid back and peaceful. Boy, were we wrong. It was cramped, congested and noisy. We arrived in the late afternoon and were constantly solicted by taxi drivers, merchants or women begging with a child in their arms. Where there were sidewalks, they were narrow, poorly constructed and crowded. This clearly was not paradise.
We rose early the next morning and went for a hike in the nearby rice fields. The sidewalks and streets were quieter and the surrounding countryside provided pleasing views. We were starting to see the beauty that others had previously discovered. Unfortunately, the popularity of tourism probably generated by the movie Eat, Pray, Love has taken its toll. We were too late to find paradise in Ubud. Thus, we decided to relocate and selected Nusa Dua on the southern coast of Bali. This was another hour's taxi drive from Ubud. As we drove around Bali, it resembled other less-developed Asian countries that we've visited with perhaps a greater emphasis of statues and sculptures for sale to tourists. Nothing special. And, certainly not paradise. As we passed through the town of Nusa Dua and into the complex where our hotel was located, an amazing transformation took place. It seemed like we'd entered a fantasy world. It was quiet and peaceful and beautiful. So, whether real or make believe, we ended our tour of Asia on a high with 3 days in paradise.
Sites Visited:
Ubud, Rice Fields, Nusa Dua. We can't say that we did much in the way of sight seeing in Bali. We walked extensively around Ubud and the large resort complex that we stayed at in Nusa Dua. We saw some more temples but we've seen so many now that they've lost their appeal. The Balinese are very religious and we did see a very colorful and fascinating tower that had been built for a cremation ceremony that was to take place the next day. We're told that they actually cut all of the power and phone lines along the procession path so that the tower can pass and they restring them later in the day.
The Million Dollar Massage:
We heard good things about Balinese massage. While our Hotel had a very nice spa, it was expensive. So, we decided to go off-property. The Spa that we chose (Healthland) provided round-trip transportation to our hotel. We had a private bungalow where we received 90 minute massages that were outstanding. When we returned to the lobby, the bill totaled over 1,000,000 Indonesian Rupiah. This was a problem as Rich had left his wallet in the Hotel safe. So, Rich returned to the hotel while Elizabeth was held hostage, so to speak. Rich came back and paid the bill with a US $100 bill and rescued Elizabeth. (The exchange rate is over 10,000 IDR to $1 US). All in all, it was a great experience. Rich felt that his massage might have been the best ever. From here forward, we'll always remember this Spa experience as "The Million Dollar Massage".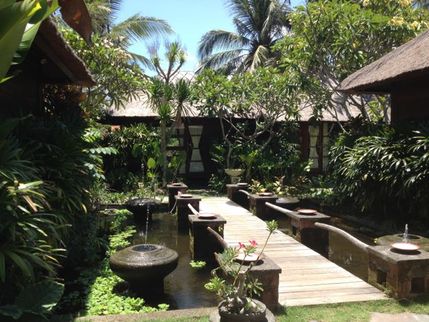 Accommodations:
We spent our 1st night in Ubud in the Okiwati Hotel. While quaint, it has seen better days. The Wifi wasn't working in our room. We were able to get a decent signal in the open-air restaurant by the pool. It's never a good sign when you're the only ones at the restaurant but we went ahead and ordered some local dishes and used the Internet to plot out our next move. Since we were disappointed in Ubud, we decided to head for the coast to get the experience that most people seek when they come to Bali. We found a relatively good deal on the Westin at Nusa Dua, which was about an hour away and headed there in the morning. On the way, we learned from the taxi driver that our Hotel had just hosted the 2013 Miss World beauty pageant. We had no idea but it did raise our expectations for the experience that lay ahead. We were not disappointed. It was a beautiful hotel and property fitting of a tropical paradise. We settled in and took some down time to savor our Asian travels while plotting our next moves into Oceania.
Food And Drink:
We had a couple of Balinese meals and enjoyed them both. The hospitality at both restaurants was exceptional. In Nasa Dua, we enjoyed a romantic dinner on the beach at Kendi Kuning where the owner went out of his way to express his sincere appreciation for our business. This is the first restaurant we've ever eaten at where they provide mosquito repellent to apply once you're seated.  We might have enjoyed a Balinese breakfast on the veranda at our hotel in Ubud but we got back late from our morning hike and the ants beat us to most of it.  The Italian restaurant (Prego) at our hotel was so good, that we ate there twice.
It's no surprise that we enjoy wine. However, the wine prices throughout Asia have been quite high. In some cases, the prices have been 5 times or more than what we would have paid in the USA. Bali was no different. We've tried a lot of the local beers and they've usually been pretty good. We've been gun shy about drinking cocktails with ice in them given the poor water quality in most of Asia. However, we enjoyed some unique cocktails in Bali with the "Snake Bite" being our favorite. We're really looking forward to enjoying some good, affordable wines now that we're exiting Asia. Of course, as luck would have it, airport security in Bali confiscated the corkscrew that we've been carrying around since we left the USA.
Transportation System:
Mass transportation was not an option in Bali. Instead, we relied on taxis and they were very affordable. With that said, most taxi drivers were trying to sell us on tours and a couple tried to game us for higher fares. We've kind of gotten used to it but we never seem to be able to let our guard down.
Shout Out:
We like to thank the Chinese website "Ctrip" for refunding our original Hotel booking in Ubud. We use Tripadvisor.com a lot to scout out hotels, restaurants and things to see and do. Unfortunately, after booking our 1st hotel in Ubud on Ctrip, we discovered that the map showing the hotel's location on Tripadvisor was in error. We called Ctrip customer service twice to no avail as they don't refund bookings in such situations. We lost the Skype connection 10 minutes into pleading our case on the 2nd call and gave up. Much to our amazement, an email showed up a few minutes later refunding our booking. We were impressed that Ctrip has a heart. Thank You Ctrip!
For Your Amusement:
We passed on the Bebek Bengil Restaurant given their tagline.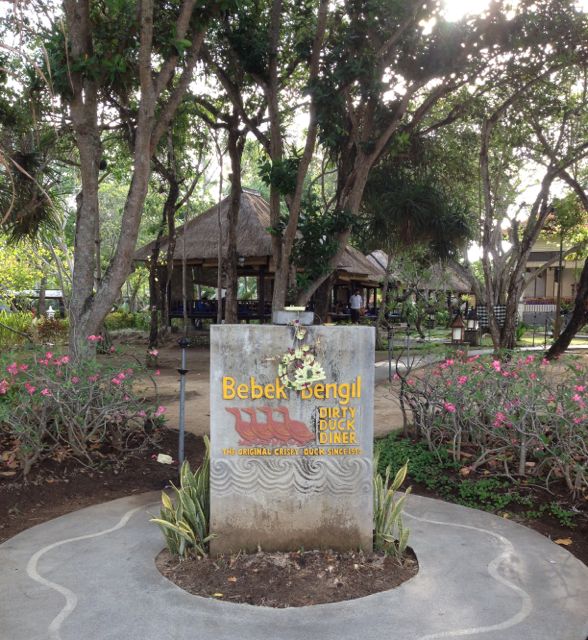 Some of the religious restrictions for entering temples are rather surprising to us. Eliz – sorry for the whiteness…urgh that McCann Irish blood!@!@!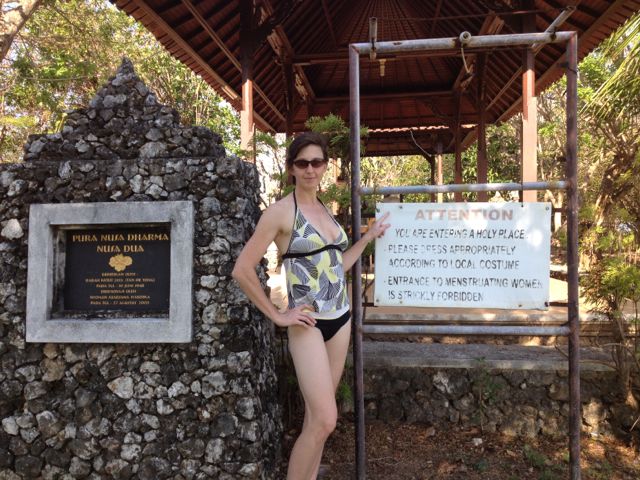 On one of our walks in Nusa Dua, we took a wrong turn and ended up in the staff parking lot. We were impressed by the message reserved for staff members.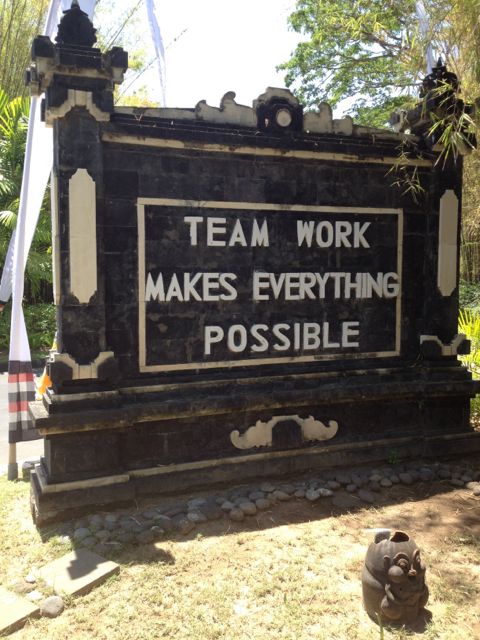 Highlight: Ubud Rice Fields & Nusa Dua Beaches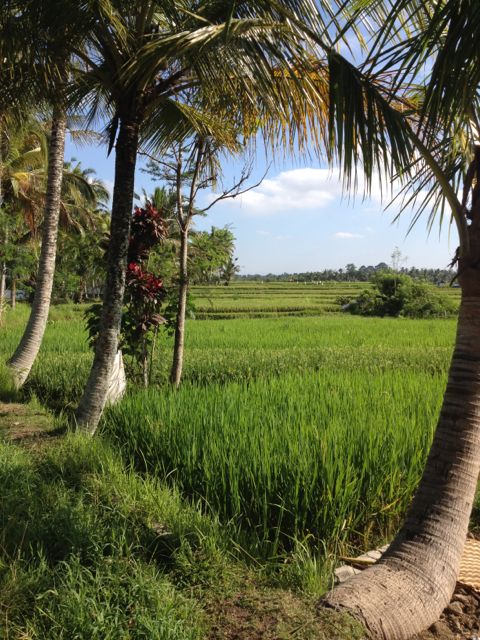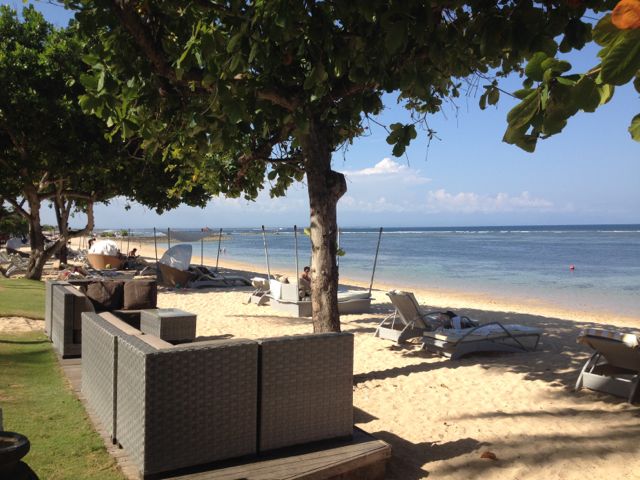 Next Up: Our 4th Visit to Down Under…Australia
Comments