20 Nov 2013
Location: Adelaide / South Australia
Introduction:
We fell in love with Adelaide and the surrounding South Australia area during our first visit in 2007 and we've always hoped to have the chance to return. Now that we're back, we've fallen back in love again. Perhaps, it's the great people or the wine or maybe the weather. We just love it here. It's the first place on our journey where we could see ourselves living.
Sites Visited:
Adelaide, North Adelaide, Mount Lofty Botanical Gardens, Hallert Cove, Wine Regions of Adelaide Hills, McLaren Vale & Barossa. The city of Adelaide is fairly easy to get around with lots of tree-lined streets and parks. It looks like mass transportation is decent with numerous buses and a light rail line. We found that we could walk to many places and we used our car the rest of the time. The wine regions are rather diverse. Adelaide Hills is fairly green and very hilly with lots of trees. McLaren Vale is more arid and close to the ocean. The terrain reminded us a little of wine regions in Washington state. The Barossa wine region is more reminiscent of the landscape in northern California. Each wine region is only an hour's drive or less from Adelaide, making it a good base location. The "Cellar Doors" of wineries are open most days and there is no charge for tastings. Thanks to Elizabeth's relationships in the industry, we were treated to numerous private tours and barrel and bottle tastings with the wine makers themselves, which made for an incredible experience.
Accommodations:
Adelaide Dress Circle Apartments, 32 Sussex Street, North Adelaide. Elizabeth found a 1-bedroom apartment for us that was perfect for the week that we were here.  It became our home away from home.  We're thinking that we need to seize more opportunities like this during our travels ahead. We ran in the parks and found a good old local fitness center to burn off the alcohol.
Food and Drink:
We're thrilled to report that our wine experience in South Australia was the exact opposite of Western Australia. If you're into wine and you haven't been here, you need to add Adelaide and South Australia to your bucket list. Many great wines extend well beyond Shiraz. They're making some great Rhone and Italian varietals and blends including Grenache, Mataro (Mourvedre), Dolcetto, Nebbiolo, etc. Until you're able to get down here, you should consider sampling some of the fine wine that the regions of Barossa, McLaren Vale and Adelaide Hills have to offer. You won't be disappointed.  There's not a lot to say about the food in this region because we took advantage of having a kitchen in our apartment to eat in every night. Those that know us well will recognize our lack of cooking skills. We did manage to make some nachos and some smorgasbords of goodies from the local supermarket. We also resorted to some Chinese and Thai (of course) take-out foods. There were plenty of restaurants recommended to us. We just never made it out to any of them. Maybe, next time as we hope to return again in the future.
Transportation System:
We relied on a rental car from Avis once again. This time, they provided us with a blue Hyundai IS30 as shown in the picture of our apartment above. It was ok but we missed the Toyota Corolla that we had in Western Australia, as we liked it better with its rearview camera proving quite helpful when backing up.
Shout Outs:
We can't thank Aaron Meeker of Vine Street Imports (
www.vsimports.com
) enough for hooking us up with wine makers in all 3 wine regions we visited. Thanks also to Vince Triggiani for setting us up with Rolf Binder in the Barossa. Sounds like you guys have had some good times together. We'd also very much like to thank the wine makers who gave so generously of their time and wine. It was not uncommon for them to spend 2 hours or more with us educating us about their passion, region and wines. We learned a lot from barrel tastings about the nuances of oak and how they can "season" the wines. In general, we were "Blown Away" by the quality of the wines we tasted. We're at a loss to pick a favorite as we loved just about everything we tasted.
ADELAIDE HILLS:  Brendon Keys of BK Wines & Taras Ochota of Ochota Wines
MCLAREN VALE:  Justin McNamee of Samuel's Gorge Wines and Justin Lane of Alpha Box & Dice Wines
BAROSSA:  Rolf Binder of Rolf Binder Wines, John Restas of First Drop and Christian Canute of Rusden Wines. Christian gets an extra big shout out for cooking us up a BBQ lunch and sharing a $380 bottle of his 2005 Sandscrub Shiraz. Wow, what a treat!
For Your Amusement:
Elizabeth helps Rich get plugged in…We thought the USA is the home of the brave until we spotted this huge poster on the ceiling of First Drop's Winery…Finally, we caught some kids having some good, old fashioned fun at Rusden Wines.
Highlights: South Australia Wine Regions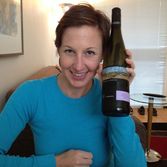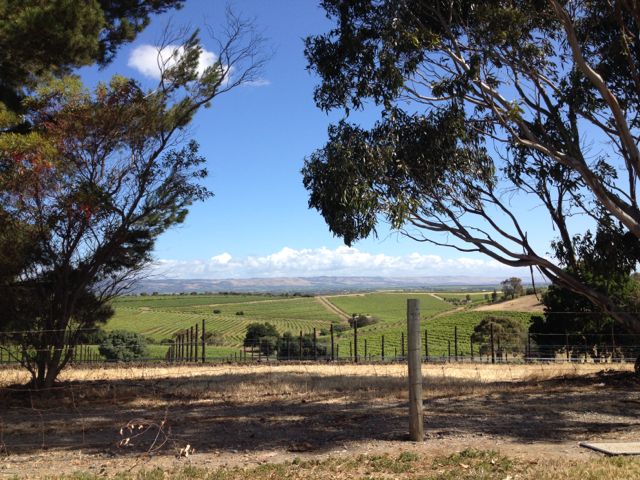 Next Up: The Gold Coast of Eastern Australia where we'll reunite with our good friends Ann & Adam Taylor.
Comments