23 Oct 2013
Location: Siem Reap, Cambodia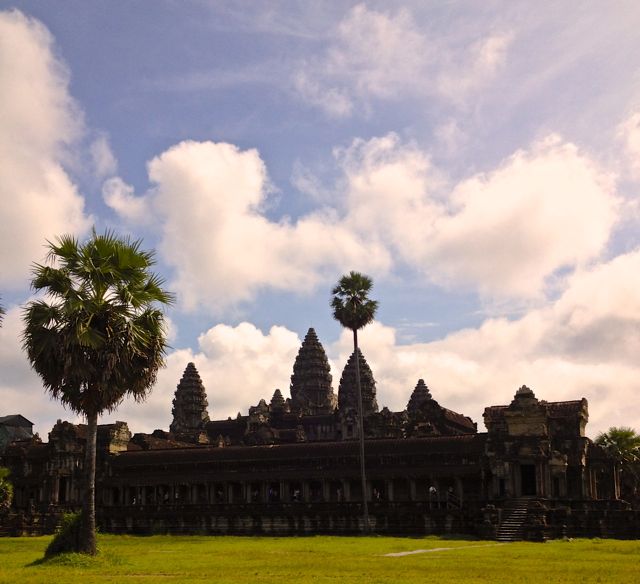 Introduction:
We came to Cambodia for the sole purpose of seeing Angkor Wat and it was worth the trip. If you haven't heard of Angkor Wat, it's one of those bucket list kind of places. The temples date back as far as the tenth century and they're massive. The elements have taken their toll over the years but there's enough left standing on a grand scale to admire and get your imagination racing. In their day, these temples must have been just spectacular. The nearby town of Siem Reap, where we stayed, was unique in that it had this weird Wild West feel to it even though there weren't any cowboys or horses. There are lots of open-air bars and restaurants with a salon-like feel and the streets are quite active with motor bikes & Tuk Tuks everywhere. The Tuk Tuks are different here as they're all handmade carriages pulled by motorbikes giving them somewhat of a horse and buggy look to them. 
We were constantly bombarded with offers of: Tuk Tuk Sir?, Buy Something Madam? Fish Massage Sir?, etc. There are numerous markets such as The Old Market, The Night Market and The Arts & Crafts Night Market. The most unexpected of all is that business is primarily conducted in US $. That's right, even though Cambodia has it's own currency (the Riel ~4,100/$1 US), prices are listed in U.S. $ and usually transacted in U.S. currency. Similar to Thailand, prices were quite reasonable for food and lodging. We learned a lot about Cambodia's sad history and continued low standard of living. We were energized by the Cambodian spirit and hope that conditions continue to improve for their people.
Sights Visited:
Siem Reap & Angkor Wat Temple Complex. The primary temple of Angkor Wat is massive. It was also crawling with tourists and this was still the slow season. We only wish that we could have seen it in its heyday, as the attention to detail appears second to none.  One of the temples, Ta Prohm, was featured in the movie Tomb Raider and is often referred to as Tomb Raider Temple or Angela Jolie Temple. Trees of the jungle have overrun areas of the temples making for some incredible visual images. 
Accommodations:
We stayed at the Steung Siemreap Hotel. It was another exceptional value that was located right in the heart of things. One of the reasons we selected it was that it had a fitness center and technically it did if you're into antiques. We elected to run outside through the mud puddles along the river in the heat of the day until we eventually melted.    
Food and Drink:
Our taxi driver (Tee) made an interesting comment about "local" restaurants. He said there really aren't any restaurants where the locals eat as they can't afford to eat out. With that said, the restaurants all served local Khmer cuisine and one of the popular local dishes cooked in the home is "Amok". We enjoyed fish amok more than once, which is a fish mousse with fresh coconut milk and kroeung, a type of Khmer curry paste made from lemongrass, turmeric root, garlic, shallots, galangal and fingerroot (or so we're told). We enjoyed very good Khmer food at the Temple and Khmer Family Restaurants and at a local family restaurant by the "King's Pool", within the Angkor Wat complex, where we shared lunch with Tee and he turned us onto a Sour Spicy Soup that was really good. We also ate some excellent Italian food at Il Forno and some so-so Mexican food at Viva. Angkor beer seemed to dominate the menus. The 50 cent Angkor drafts in iced mugs at Khmer's were quite refreshing.    
Transportation:
We've been bouncing around Southeast Asia on budget airlines. They're a challenge to book as they sneak in various upcharges and you have to play detective and try to find them and undo them to get the advertised fare. Our Air Asia flight to Siem Reap even had advertising on the overhead storage compartments. It's also challenging to make our flights. For example, we had connecting flights on separate airlines where "Check-in" closed 60 minutes before takeoff on the 1st one and 90 minutes before takeoff on the 2nd one. We would have checked in online but neither one offered it. Fortunately, the 1st flight actually left the gate early and was in the air 15 minutes before our scheduled departure. Thus, we were able to clear immigration and still catch our next flight. While there were countless Tuk Tuks around, we used air conditioned taxis from/to the airport and for our tour of Angkor Wat. Given our hotel location, we were able to easily walk to everything else and we did plenty of that.    
Shout Outs:
We toured the Angkor Wat complex with a local taxi driver named Kimty Sor (Tee) who also provided numerous insights into the local area and what life's like in Cambodia. Spending the day with him made the visit much more interesting. Give him a call at 855-12763475 if you ever make it here.    
For Your Amusement:
We thought we'd seen it all until we came to Siem Reap where they use fish to do massages (aka they eat the dead skin off your feet). See for yourself. You sit in the chair and stick your feet in the tank and the fish do the rest. If you look closely at the menu below, you'll see that you can buy cigarettes off of the restaurant menu. And, if the fish don't make you happy, the "Happy Pizza" will, as it includes some special herbs.
Highlight: Angkor Wat (Of Course)

Next Up: India
Comments