19 Oct 2013
Location: Thailand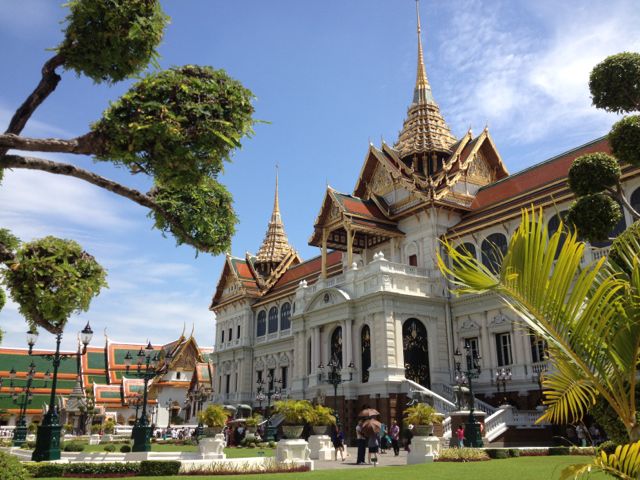 Introduction:
The Thai people are known for their friendly smiles and we left Thailand with big smiles on our faces. We sampled the center (Bangkok), south (Phuket) and north (Chiang Mai) of Thailand with each location offering it's own unique adventures. The weather was hot and the food was spicy hot. We enjoyed some incredible values on food, lodging and massages leading us to seize the opportunity to indulge ourselves. Here are some examples: dinner where we ordered 4 different Thai dishes with beer for just $11, a nice room in a guesthouse for $27 a night and 1 hour massages for $17 total for both including tip. Rich even got way more hair cut off than he bargained for with his $5 haircut. (He figures that it'll keep him cool and he won't need another haircut for at least 3 months). If you're ever looking for an exotic trip at a relatively affordable price, Thailand may be the place for you.    
Sights Visited:
BANGKOK:  We had fun riding a Chao Praya River taxi in Bangkok to the Grand Palace. The pictures we took are incapable of conveying the breathtaking beauty of the Grand Palace complex. Even though we tried to dress conservatively, Elizabeth's Capri pants were unacceptable and she had to rent a full-length skirt. Once we overcame that hurdle, we just walked around awestruck. There was one exception in that the highly touted "Emerald Buddha" is really made out of Jade and was tiny relative to the large temple that houses him. Yet, we did recognize and respect his age and historical significance. The "Reclining Buddha", in the Wat Pho temple nearby, more than made up for him as she was huge and stunningly beautiful. 
PHUKET:  We moved on to Phuket where we had a very memorable adventure sea kayaking in caves around James Bond Island. The openings into and out of the caves were so small that we occasionally got stuck and once had to get into the deep water in a cave full of bats and swim our way out. We also enjoyed seeing some monkeys and eagles in the lagoons. We caught a magnificent sunset on the ride back to the main island just before our boat broke down. No worries, as we met a lovely couple from Perth who clued us in on wineries to visit in the Margaret River region of Australia  while we were towed back to shore. We also caught a piece of the bizarre annual Vegetarian Festival, which is nothing like what it sounds. Check out this link if you're curious: http://www.phuket.com/festival/vegetarian.htm
CHIANG MAI: We next flew up to Chiang Mai and spent an unforgettable day interacting with Asian elephants at the Elephant Nature Park 60km further north. This is a preserve where they rehabilitate injured and mistreated elephants. We learned a lot about these wonderful animals while having loads of fun and meeting some great people in our tour group. 
Accommodations:
Eastin Grand Hotel Sathorn in Bangkok was conveniently located right at a Skyway stop and within walking distance of the Central Pier. We've never been fans of buffets. However, the breakfast buffet that was included in our room rate was the best we've ever had with an unbelievable selection and a wide variety of foods. They had an above average fitness center and a lengthy infinity pool. The U Sunsuri in Phuket was quietly isolated near the southern tip of the island. Great rooms, pool, spa, restaurant, service and a solid fitness center. Yindee Stylish Guesthouse in Chiang Mai was inside the old city putting everything within walking distance. It was much more modest and met our basic needs well enough at a price even lower than all of the Hostels that we've stayed in.    
Food And Drink:
We enjoyed the spiciness of Thai cuisine and have earned a basic appreciation for the different curry sauces. Green curry brings the most heat with Red curry not far behind. Yellow curry is medium heat. Massaman and Penang are flavorful without the heat. If we had to pick a favorite, it would probably be the Massaman or maybe the Yellow Curry with Coconut Milk but we usually ordered 3 dishes of varying spiciness to mix things up. We had our fair share of Pad Thai and all but one were delicious. Up north, we really loved the Khao Soi (yellow wheat noodles in curry sauce).    
Transportation:
The sky train and river taxi served us well in Bangkok. Our first auto taxi experience was more challenging as the driver tried to unsuccessfully game us for a higher fare all the way to the airport, even though we made him reluctantly put the meter on when we left the hotel. We did some bike riding in Phuket, which was fun even though we got caught in a rain shower. We got us first taste of Tuk-Tuks along with the notorious side-trip to a local Gem Store, which came along with the lower fare we negotiated. The challenge with some of the Tuk-Tuk drivers is communicating where we wanted to go as we didn't always end up where we intended but we got close enough to make it work.
Shout Outs:
We want to thank Juli Johnson from Buffalo, NY (Go Bills!) for suggesting that we visit Phuket. We met Julie on a tour in Taiwan and her enthusiasm for Phuket inspired our visit and her recommendation to go on the sea caves kayaking trip rewarded us with a memorable adventure. Thanks Juli!!! We'd also like to thank Chris Christensen for his Amateur Traveler podcasts (http://amateurtraveler.com) for turning us on to the Elephant Nature Park.    
For Your Amusement:
Here's advice on what to do if the WiFi isn't working. Anyone for Dunkin Donuts new "Spicy Charcoal Donuts"?  
Highlights: Grand Palace, Kayaking Sea Caves & Elephant Nature Park
Next Up: Cambodia
Comments