08 Oct 2013
Eating Soup with Chopsticks
Location: Japan Week #2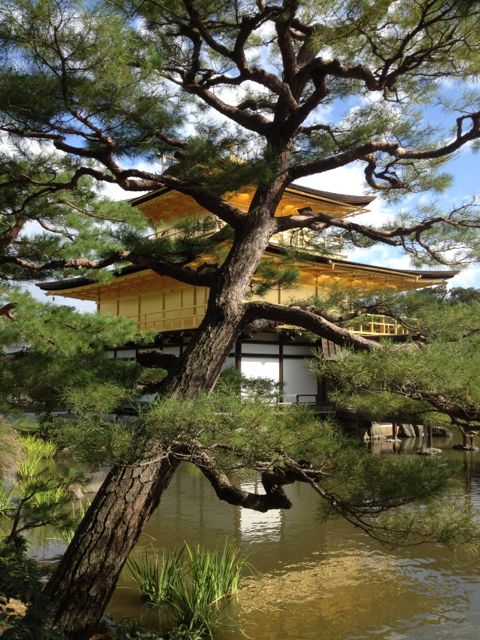 Introduction:
During our 2nd week in Japan, we started to feel fairly comfortable, as we pretty much knew what to expect and how things work. The countryside has been more picturesque than we anticipated. The cities we visited were all ringed by green mountains. The people have been most gracious and helpful. We continued to see some impressive shrines and temples but became more selective in the number we visited. The typhoon (hurricane) season has been fairly active in the Asian Pacific region and we have luckily dodged them all enjoying mostly sunny days with temperatures in the low 80's. We got more adventurous in the foods that we tried as we sought out local specialties. Elizabeth even figured out how to use chopsticks to eat soup when no spoon is provided. (You just pick the bowl up and drink it.) We leave feeling fulfilled with an appreciation for Japanese culture and we're now ready to move on to Southeast Asia.
Sites Visited:
Nara, more of Kyoto, Hiroshima, Mount Aso, Kobe & Osaka.  Kyoto has so many Temples and shrines that it's nearly impossible to see them all. We cherry-picked some of the highlights and saw some impressive sights. Our lone disappointment has been that some of the "must-see" Japanese gardens that we paid to visit fell well short of our lofty expectations. We saw more impressive Japanese gardens when we just randomly stumbled upon them.
We made a day trip to Nara to see the "Great Buddha" in the Todaiji Temple, the tallest in Japan & the largest wooden structure in the world and it was well worth the trip. Lots of deer roam free in Nara making things interesting.
Our visit to Hiroshima was a time for reflection & sorrow. It was a tough day but one that we felt we had to experience and we're glad that we had the opportunity to pay our respects. It's encouraging to see Hiroshima thriving as a tourist destination today. We took a side trip by ferry to Miyajima and climbed Mount Misen. It was another hike that felt like an endless Stairmaster workout but it provided our workout for the day and was worth the views from the top. Hiroshima is really a beautiful area, which we had not expected
We moved on to Mount Aso on the island of Kyushu, which is the largest and most active volcano in Japan. The summit was closed due to higher than normal volcanic activity but we were able to get fairly close and hike some adjacent inactive craters. This time we got off the beaten path trekking through some thick, 6ft high vegetation hoping that it would lead somewhere recognizable, which it eventually did. Elizabeth deemed the trail "A Walk in the Weeds". Japan is known for their Onsens (natural thermal baths). We decided to give them a try in Aso given its volcanic vicinity. The men are separated from the women since no clothing is permitted in the baths. We pre-agreed to spend 45 – 60 minutes inside. 30 minutes later, we both found ourselves in the lobby. Too funny! Apparently Onsens are not our thing. (We did make a longer visit to "Spa World" in Osaka, which was quite the place.)
Osaka is Japan's 3rd largest city. We ended up staying in a compact residential area that reminded us somewhat of Beijing's Hutongs.
We made a day trip to Kobe to visit a sake museum and sample some sake as well.  No, we didn't try the Kobe beef. It just wasn't high on our list and didn't work out in our plans. We did discover Universal Studios Osaka and checked out their city walk, which felt a bit like home.
Accommodations:
The ANA Crowne Plaza Hotel in Hiroshima was nice. The Aso Base Backpackers Hostel was pristine with a real woodsy, country feel to it. We got our first taste of shared bathrooms, which wasn't as convenient as we're used to but ended up working out just fine. In Osaka, we stayed at the Bonsai Guesthouse, which was a much more basic Hostel and a step down from the accommodations in Aso. The walls are rather thin as we learned when the Boys in the bunkroom next to us noisily rolled in at 3:15 am. You can probably imagine how very quiet we were when we got up just a few hours later at 6:30 am to go for a run. 🙂
Food & Drink:
We tried Kyoto's small dish home-style cooking known as Obanzai and found it to be ok but a bit on the bland side. We tried okonomiyaki, which is a savory pancake with noodles, cabbage and more, prepared fresh in front of us in Hiroshima's Okonomimura and loved it.  Hiroshima is also known for their large oysters. We tried them BBQ'd and they were good.
We had Japanese BBQ in Aso where you cook your own meat and vegetables. While it was fun, it was hard to tell when the numerous small pieces of chicken were cooked enough. We both agreed that when we go to a restaurant, we'd prefer to have the Chefs prepare our food as we're somewhat lacking in that skill. The sushi in Osaka was better than the best we've had at home at about half the price. It was so good, that we went back to the same small place (Sushi Boat) in Osaka a second time. We tried some additional local dishes but nothing that hooked us. And, yes, we had some Italian "comfort food" along the way.
Transportation System:
We continued to leverage our JR Rail Passes on Trains & Ferries and we used more buses and subways. After spending 2 weeks using the Japanese railways, we're quite impressed by the scale and efficiency of the system. Trains were consistently on time and the high-speed Shinkansen (bullet) trains really fly while providing a smooth, comfortable ride. We also added streetcars and bicycles this week.
Shout Outs:
We found hyperdia.com to be an invaluable companion to easily find the combination of trains that we needed to get from place to place. And then, when we reached our destination, there was ALWAYS a tourist information center in each of the train stations with English speaking staff and they consistently served us well with local maps and recommendations.
For Your Amusement:
We applaud Mr. Donut for their truth in advertising. We decided to pass on the "Dreaded" Chicken and "Pork Guts" entrées. Finally, we learned that running could be faster than walking.
Highlights: 
Kyoto's Golden Temple, Nara's Todaiji Temple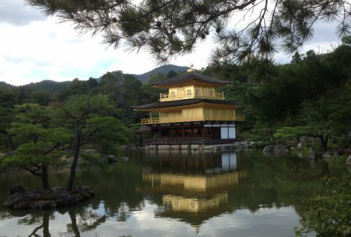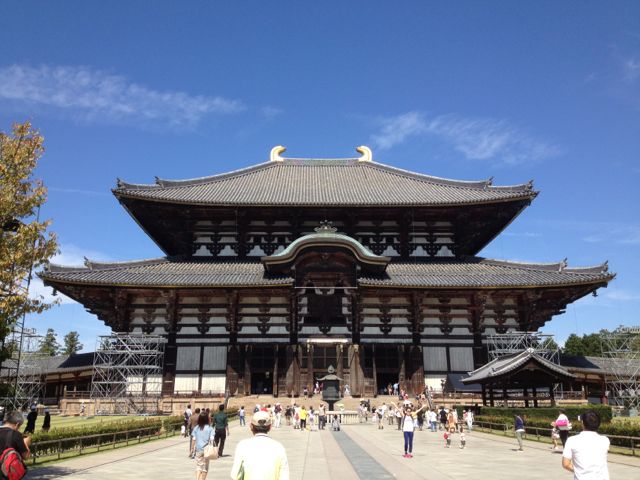 Up Next: Thailand
Comments