29 Oct 2013
Introduction: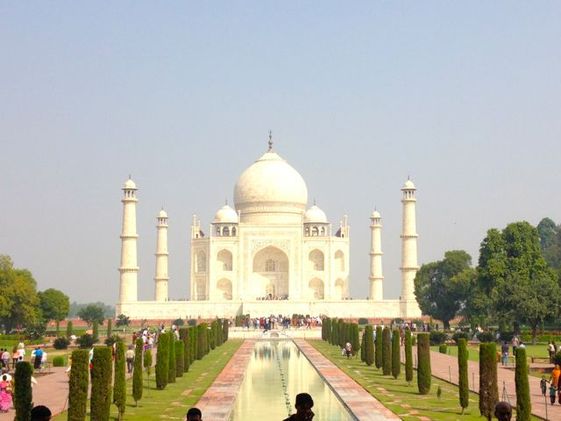 This is my (Elizabeth) first blog post, as Rich has been doing the writing so far and I have been in charge of the web design.  I've taken the lead for this post as it is my first time to India, whereas, Rich has been there multiple times.  Despite having travelled around Asia for 1.5 months so far, nothing had quite prepared me for India.We came to India primarily to see the Taj Mahal, another one of those bucket list items.  We stayed the first night by the New Delhi train station so we could catch an early train to Agra, home of the Taj Mahal, the next day.  After 2 nights in Agra, we came back to Delhi for another 4 nights. I know this may sound like a quick trip to India, but it was just enough for me.
India was a hard country to experience.  This is a world of the haves and the have-nots.  You step outside your secure hotel oasis to be greeted by chaos – constant beeping, pestering tuk-tuk drivers, trash everywhere, smoggy skies, cattle and dogs roaming the streets, and touts (scammers) abound.  I'm glad to have visited India but it took some bravery to travel around as independently as we did. It might have been easier to be part of one of the sheltered tour groups that we saw. In the end I feel rewarded by the raw emotions that I felt and the unforgettable sights that I saw and I am also glad to be on a plane to Singapore now.
Sites Visited: Taj Mahal, Agra Fort, Old Delhi
Taj Mahal:  We hired a car for a few hours to take us to these two major sites in Agra.  It's the best way to get around on the cheap.  There were still many touts and "guides" but at least the streets were cleaner and the traffic beeping died down. We wanted to rent audio guides, but there was no one working the desk.  There was, however, a clever man telling you that you can't rent the audioguide, but you can hire him as a guide.  Most of these "guides" we learned have fake cards showing they are certified guides and don't actually tell you much history once you're in the complex. After several firm "no thank you's" he finally left us alone.Everyone's seen the Taj in pictures, but seeing it in person really gives you that WOW effect.  It is a burial ground that Shah Jahan built for his wife who died after giving birth to their 14th child.  The building is as wide as it is tall and has a grandiose red brick gate at the entrance and immaculate grounds.   The elegance of this massive, white marble building is unlike anything else we've seen in the world.  It has definitely become our most admired building.

Agra Fort:  Much of the complex is occupied by their military or under rennovation, but the part we saw was still very impressive.  The fort even served as a prison ground for Mugal emperor Shah Jahan, who built the Taj Mahal for his wife, Mumtaz Mahal.  There is a great view of the Taj from the complex.  As we were making our way out we were surprised by a pack of wild monkeys coming over the top of one of the buildings.
Old Delhi:  We booked a Small Group ½ day tour of Old Delhi on Viator.com that ended up being Rich, me and the guide.  We saw a Hindu temple, Sikh temple where they make food to feed over 10,000 people daily and wandered through the tiny alleys of the Chandhi Chowk Bazaar.   It was great having a guide to keep the touts away and show us what the Bazaar is all about.  Many of the stalls sell wedding dress materials, which were beautiful and elaborate. We did eat some street food, which we were afraid we'd regret later with bad "Delhi Belly" but ended up fine.
Accommodations:
We started out in a dreadful predicament.  Since we had a 6am train to catch to Agra on our second day, we decided to stay in the #2 ranked hotel on Tripadvisor which is just steps away from the New Delhi Train station.  We knew the hotel wasn't luxury, but with the great reviews, we thought this would be excellent for getting right to the station.  After stepping out of the New Delhi station in pursuit of our hotel, I knew we were in trouble.  This is by far the worst part of Delhi we'd been to on our whole trip and ironically my first taste of India.  We knew the general direction of the hotel and that it was in easy walking distance, but in hindsight, we should have just hopped in one of the many tuk-tuk's and gotten a lift to the hotel.
We managed to cross the chaotic streets reeking of vile excrement and over the train station to the street we knew our hotel was on.  By chance, after 5 minutes walking up the street (over piles of trash and by crazy drivers) the hotel suddenly appeared on our left and we entered a mild oasis from the streets.  The hotel was completely full and despite our request for an inner-court facing room left us with a street-facing room.  We normally sleep with white noise on, so I figured that would block out any street noise.  Boy was I wrong.  All night long there was honking, yelling and dog barking.  We didn't sleep a wink and drowsily managed to navigate back to the train station and into our first class seats where we dined in relative luxury on our way to Agra.
Each of our next two hotels was truly an oasis.  In Agra we stayed at the ITC Mugal Hotel and in Delhi we were at the Sheraton New Delhi.  Both are members of Starwood and 5 star luxury hotels.  Thanks to Rich for all those business stays that earned us enough points to stay there.  After touring around in the dirty heat, it was so wonderful to walk into a nice hotel and have peace and quite.

Food and Drink:
The food was exceptional throughout!  We are big fans of Indian food, so we enjoyed every meal throughout our stay. One of the more memorable dinners was on a rooftop restaurant at the Saniya Hotel overlooking the Taj Mahal at sunset. We did sneak in some pizza and noodles (our comfort foods), but had traditional Indian food at least once a day.  The curries and kebabs were so tasty and mouthwateringly spicy.  We really enjoyed those from Peshawri Restaurant in our hotel in Agra where we were encouraged to eat with our fingers and use bibs.  There was one Chinese/Thai restaurant that we loved so much we went back to a second time, called Joy Luck Moon.  It is in the Select CityWalk Mall, which was close to our hotel.  Their noodle dishes and cooked veggies were stellar.
Transportation System:
After 4 attempts through online exchanges we were finally able to book train tickets using India's online booking form.  On our way to Agra we took the high-speed (by India's standards) 2-hr express train from Delhi to Agra.  It was very nice and almost completely full of westerners.  We were served an unexpected 3-course breakfast.  The return train was also first class, but the slower, 4-hr one with no meals or water and surprisingly more expensive.  The bathroom was a surprise…a hole in the floor that empties outside onto the train tracks…lovely!  We did get a "sleeper room" with 4 single beds.
Within the city the main modes of transport are tuk-tuks, taxis and the subway (Delhi).  The tuk-tuks are more like open 2-seater cars than the rickety tuk-tuks in Cambodia and Thailand.  The subway in Delhi was orderly and efficient for getting us around the city and incredibly inexpensive.
Shout Outs: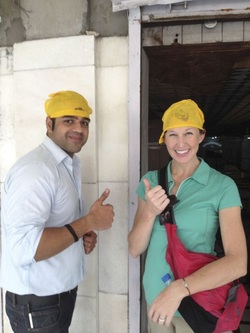 Thanks to Vibhor our tour guide and the Sheraton corporate customer service people who helped fix a major booking blunder I made.
For Your Amusement:
Would you like a Pimplhed or a Pamphlet? Drinking Budweiser because they didn't have cold Kingfisher…how do you not have cold Kingfisher?  We asked an Indian guy at the Taj to take a picture of us and he misinterpreted and starting posing for us to take a photo of him.  And finally another video!
Highlight(s):  The Taj Mahal
Up Next: Singapore
Comments