06 Sep 2013
Please Don't Climb the Great Wall
Location: Beijing China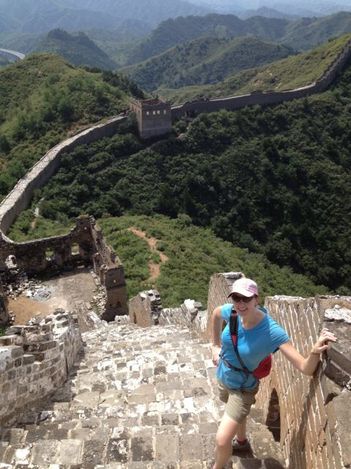 Highlights: Great Wall @ Jinshanlinh & Hutongs
Story: We start our first Travelling Blog post from China with a shout-out to Sam & Laura from England who helped us figure out how to overcome China's censorship of the Internet, which prevented us from being able to access our Blog host. We must admit that starting our trip in China had us both intimidated. We were worried about the challenges of communicating and getting around.  However, we were pleasantly surprised to see that many signs are sub-titled in English and stops are announced in English. We've used the subways a lot and they only cost 2 Yuan or about $0.35 per ride, regardless of where you get on and off.
We've spent our first 3 nights in a Hostel (Templeside Lianlian Houtang Guest House). It was clean and comfortable with a pleasant staff. Staying within a Hutong (alleys formed by lines of traditional courtyard residences) was fascinating as we got a glimpse into everyday city living. There are lots of very small shops of all kinds (fruits & vegetables, street food, repairs, hardware, etc.). We didn't find any English here but we used hand signs to buy some bananas and the iTranslate App to help buy a steamed pork roll (at least, we think that's what it was).
Forbidden to Enter the Forbidden City
On our 1st day, we decided to head for the Forbidden City and Tiananmen Square. We entered the Forbidden City with a throng of Chinese people at about 1pm. It is massive! Unfortunately, when we passed into the 2nd large courtyard, we came across a sign explaining that starting in September (it was the 2nd), the Forbidden City tour is closed on Monday afternoons.  Oh well, anyone for some hoops instead? We were surprised to see 2 makeshift basketball courts on the grounds. Next, we headed to Tiananmen Square and it pretty much met expectations. It's on a grand scale and reminds us of the scale of plazas and buildings in Washington D.C. We hopped back on the subway and headed up to checkout the Olympic Village.  Another massive site that's starting to show its age and discoloration from what's likely smog residue.

Patience Pays Off
The highlight of the trip in Beijing was hiking the Great Wall.  We spent 4 ½ hours getting there and 3 ½ hours getting back but it was well worth it. We were picked up in a minivan and left off on a street corner by a driver who didn't speak much English hoping that we'd get picked up by a larger vehicle.  Eventually, a nice bus showed up and we were on our way. We chose to head further out as we'd heard that the Great Wall was less crowded and more impressive in Jinshanlinh.  When we arrived, we were swarmed by local women offering to be our guides and sell us stuff. It was highly recommended that we pay extra to take a cable car up to the wall to begin our hike.  We chose to hike up the steep mountainside and ended up beating the people taking the cable car. The Great Wall itself was even more impressive than we'd imaging as it winds up and down the mountains. We spent about 3 hours hiking and fortunately, we left the smog behind and enjoyed some beautiful views. Along the way we came across a sign stating "Please don't climb the Great Wall" which was intended to keep us on the wall and not venture outside of it. Obviously, something got lost in translation and provided for some amusement.  We finished our hike with a large beer and a traditional Chinese meal, which were both quite good.
How Hard Can It Be To Buy Train Tickets?
The answer is much harder than it should be. We decided to move on to Xi'An from Beijing by train. Basically, there are 2 choices: high speed trains that get you there in about 5 hours or Sleeper trains that get you there overnight in about 12 hours. We decided to go with the High Speed train and found a time with availability that would suit us.  Here is our list of attempts to buy the tickets:
1.      Book tickets online. Unfortunately, we received the message that tickets can only be purchased online 4 days in advance.
2.     Book tickets at pay station at railway station. No – we needed Chinese Citizen cards.
3.     Buy tickets at ticket window with credit card.  No – you must go to ticket window 16.
4.     Buy tickets at ticket window 16 with credit card.  No – you must pay in cash
5.     Get cash.  Rich tried 3 ATM machines and failed to get money out with an error message of "Abnormal" condition. ?!?
6.     Go in search or more ATM's.  We finally found a bank across the street which Rich again failed to get to produce cash.  Elizabeth tried and on the first attempt got the machine to spit money out!
7.     Buy tickets at ticket window 16 with cash.  Wait- do you have passports?  Fortunately we did.  WOO-HOO!
Dining In Beijing
We ventured out to Ghost Street on our first night for dinner. It's hard picking a restaurant since there are so many. We walked out of our first selection as the English menu they provided offered mostly animal parts that we hope to never have the pleasure of knowingly eating. Our second choice had a much better menu with the food we selected bringing mixed results. Given our long day and train ticket trauma, we went to a super market for our second dinner and were pleasantly surprised to find some familiar brands and food. While we prefer Reduced Fat JIF peanut butter, we were happy to settle for some good old Skippy. Thus, we ended up with some comfort foods that satisfied our appetites for the night.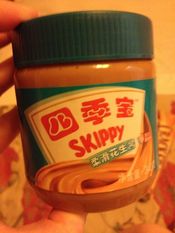 Energy
One last amusing note is that there are video monitors in the subways showing snippets of TV shows with lots of advertising mixed in. We cracked up when we saw what looks to be a local energy drink with images of Mike Tyson at his fiercest looking best on the screen. Too funny.  Now, it's on to Xi'an. Can't wait to use those hard to obtain train tickets.
Comments