22 Sep 2013
Location: Seoul, South Korea
Introduction: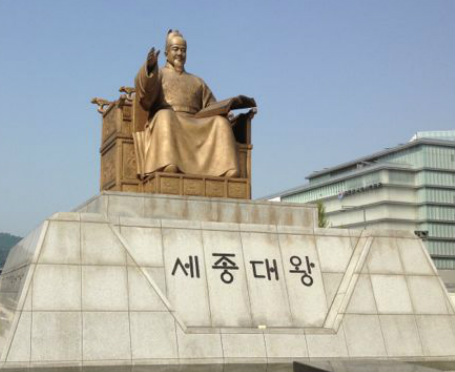 Seoul is a large cosmopolitan city with much to offer. Unfortunately, we arrived on the eve of Chuseok, Korea's Thanksgiving Holiday when most businesses shut down for 3 days. We stayed in the infamous Gangnan area, which is primarily the financial business and high-end shopping district and it was pretty quiet. There was a Dunkin Donuts just down the block from us and it was closed throughout our stay, much to Rich's disappointment. We met up with a friend of a friend and had to settle for a Japanese restaurant for dinner, as our search for an open Korean restaurant was fruitless. We're not complaining though as we still had fun and did a little bit of exploring and liked what we were able to see. We also took advantage of some downtime to plan out our trip to Japan.
Lions Maul Bears on Thanksgiving Day
We decided to take a walk on Thanksgiving Day to check out the Olympic Stadium from the 1998 games that Seoul hosted. When we got there, the stadium was empty as expected but there was another stadium nearby and we could hear the crowd cheering and chanting. We discovered that a professional baseball game had just begun between the host Doosan Bears and the Samsung Lions. So, we bought a pair of cheap seats in the outfield and had a blast as the crowd was rocking. Both sides were well represented with Bears fans on the 1st base side and Lions fans on the 3rd base side. They each had their own cheerleaders and both sides were really into it, drinking lots of "Cass" Beer and making lots of noise. We joined in and rooted for the home team Bears as that's where our seats were. Unfortunately, the Lions won 7-1.
Accomodations:
The Park Hyatt in Gangnan.  It was very modern in it's styling and a bit over the top for us but the service was perhaps the best we've ever experienced anywhere. The staff were plentiful, friendly and went so far as to push the floors in the elevators for us (we were in the elevators a lot as the Lobby was on the top 25th floor and you can only reach the ground level from the lobby). When the Internet died in our room on Thanksgiving Day, they set us up in their lobby restaurant and provided free refreshments. In the evening, after the service had been restored, they sent us a bottle of wine, fresh fruit and a handwritten card of apology from the hotel manager. Needless to say, we were quite impressed.

Food And Drink:
After a lot of walking and scouting, we managed to find a Korean BBQ restaurant for dinner one day. We liked what we had ok but we have nothing to compare it to and weren't able to adequately gauge Korean food, which we've heard so many good things about. We ended up eating twice at Japanese restaurants. We found a great lunch café called Mama's that had a waiting line at 3pm that was well worth the wait. We ate at Cornerstone in the Hotel our last night and enjoyed 2 pasta dishes that were outstanding (they just didn't quite get the concept of putting grated cheese on pasta).
Transportation System:
We hear that the taxis are great and inexpensive but we found buses and subways suited our needs just fine. The subway system was extensive and a bit of a maze. We headed out in the wrong direction on our first subway trip and paid the price as we had to pay another fare to get to the other side. The subway system wasn't quite as user friendly as the other cities we've visited but it was good enough with English sub-titles and announcements for which we were grateful.  We had some amusement generated by a guy selling different types of bandaids and a group of male teenagers getting their phone-gaming fix in on the subway.
Shout Outs: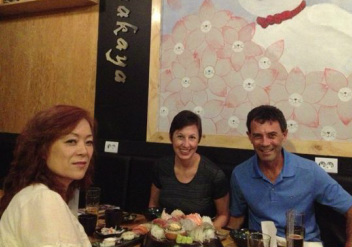 Jane is a friend of Steve Orlinick's (Thanks Steve O!), who Elizabeth met briefly before at an event in NJ. Jane was born in Korea, lives in the U.S., but has children in Korea and was on an extended visit. She was terrific in that she helped us learn about Korean History, Culture, Food, Economy and Perspectives. She helped us understand why all the good Korean restaurants would be closed for the 3-day Holiday as they're family run and the families would be taking time off to celebrate.
For Your Amusement:
At the baseball game, the 2 girls sitting in front of us were drinking their beers from straws. We've got a silly picture of Rich striking a pose and another of our over-the-top toilet control panel.
Highlights:
Walking around the Central City District, Folk Center Percussion performance and attending a local baseball game.
Next Up: Japan
Comments