08 Sep 2013
First impressions can be deceiving
Location: Xi'an, China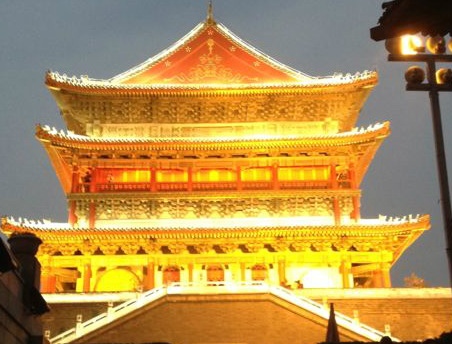 Introduction:
The high speed train from Beijing was clean, comfortable and right on schedule.  Our first impression upon arriving in Xi'an was tough to overcome as the smog was especially bad and burring our eyes even before we got outside.  But, the people we met; the sights we saw and the food that we ate have us leaving with a positive impression.  We've had several local people help us out.  One such example is when we found a Starbucks at 7:00 in the morning; a clerk inside saw our dismay that the store didn't open until 7:30am. He came over and unlocked the door and offered to let us hang out inside until they opened. We needed the strong coffee to help perk us up as we're still finding ourselves waking up at 3 or 4 in the morning while we try to adjust to the 12 hour time change.
Accomodations:
We chose to stay in a Hostel named Hantang House and really liked it.  Our room was more like a hotel room at half the price of what we paid in Beijing.  The 1st floor serves as reception, a bar, a restaurant and a common room to hang out in and socialize.  The only drawback was there was no Wi-Fi in our room; just the lobby.
Sites Visited: Terracotta Warriors, City Wall, Bell & Drum Tower Pagodas
The primary tourist draw to Xi'an are the Terracotta Warriors & Horses that were created to accompany China's 1st emperor Qin Shi Huang (259 – 210 B.C.) into the afterlife.  We joined a tour that our Hostel was running with an English Speaking Guide, Lady Zha Zha, who was terrific.  The excavation sites are a work in progress but what's already been uncovered and the way in which it's displayed is quite impressive.

You may find this hard to believe but it's been almost a week and we haven't laced up our running shoes or been in a gym yet.  We're doing so much walking and hiking that we feel like we're getting plenty of exercise.  Xi'an has one of the best-preserved city walls in China that dates back to the 8th century.  It's over 7 miles in length and took about 3 hours for us to walk.  Even though Xi'an has a nice subway and bus system, we've been walking everywhere and we're probably averaging at least 10 miles a day.  The distance isn't the challenge though as being a pedestrian in China seems to put you at the bottom of the food chain. Buses, Cars, Motor Bikes and Bicycles come at you from all angles and the drivers are aggressive.  We find ourselves always on the defensive; even on the sidewalks.
Food and Drink-Donkey Beats Pork & Chicken:
We started out conservative by enjoying some Italian food at Colano's Italy restaurant hidden on the 11th floor of an office building and we finished up adventurous eating street food at the Muslim Night market the next 2 nights.  In between, we ate at a local Chinese restaurant and ordered 3 dishes to sample: Spicy Chicken with Bamboo Shoots, Twice Cooked Pork and Cauliflower with Donkey.  We ordered the last dish because we wanted to have some Cauliflower.  We figured that we could eat around the Donkey.  As it turned out, the Pork came in a form of fatty bacon, the Chicken tasted like what we'd expect Donkey to taste like and the Donkey was delicious and tasted like white meat Chicken. It's a good thing we ordered the Donkey.

Shout Outs:
We knew that there are lots of other people like us embarking on extended travels to see the world. On the tour, we met just such a cool couple, Dan & Alisa, from Minnesota who have a 7 month head start on us.  They've already covered many of the places we'd like to see in Asia.  So, we'll be using their blog http://www.thisworldrocks.com to gather more menu items for things to see and do.
Thanks go to Dave Aragona for suggesting that we visit Xi'an based on his daughter Jenny's visit here.
For Your Amusement:
As we were strolling the streets after our Italian dinner, we heard some familiar American Pop music and saw a crowd enjoying a street performance of Dueling Michael Jacksons.
Next Up: Hong Kong
Comments